Feature Article
Navigating tricky roads
Carter's Bulk Haulage has been committed to Freightliner since Dan and Debbie bought the business in 2005. Since then, they've kept adding American grunt to the fleet in the form of nine Argosy 8x4s, which have racked up literally millions of kilometres.
"We've had to change a few engines and the odd transmission," says Dan. "Most of them only stop for servicing. The last five heavy-duty trucks we've bought have been to replace the original 2005 unit, but that's never happened because the business keeps growing and we've had to keep it."
Based in Kerikeri, with two of the trucks stationed at Marsden Point, Carter's has a team of 17 drivers servicing an area from Kaitaia to Taumarunui, clocking around 180,000km a year each.
When the discontinuation of Argosy was announced, Dan had a real 'what are we going to buy' moment. "The 8x4 Argosy cab-over set-up suited us so well, it was brilliant for farm deliveries, plus the light tare weight and 50T general access (50 max) permit was perfect. If we'd gone to any of the European brands, we'd have lost a tonne of payload.
"We were told that the Cascadia would only be available in a 6x4 configuration, which meant that we couldn't get a 50 tonne General Access sticker because we needed the ninth axle."
Just when he thought his 15-year relationship with Freightliner might be over, a solution appeared unexpectedly.
Eureka moment!
Dan was at the Cascadia launch in Australia, pondering how the future of his business might look when inspiration struck, he spotted an innovation that would make the DD13 505hp 116 model work like a dream.
"I noticed something they called a pusher axle, so when I got back to New Zealand, I put the wheels in motion to get one."
A pusher axle is the perfect solution for Carter's. Unladen, the heavy-duty Cascadia runs in a 6x4 configuration; fully loaded, a 'tag-axle' in front of the two drive axles drops automatically to give the Cascadia nine axles in total and the ability to run under a 50T GA sticker. 
Dans says that is a vital business requirement.
 
"Putting the Cascadia on as a six-wheeler with a five-axle trailer only allows us to run 46T general access. The pusher axel adds about a tonne, so we'd lose around three tonnes of payload and we couldn't afford to do that.
"The third axle also gives us better weight distribution. We can put 12T in the centre in the bin and our axle weights are perfect with the super singles up front."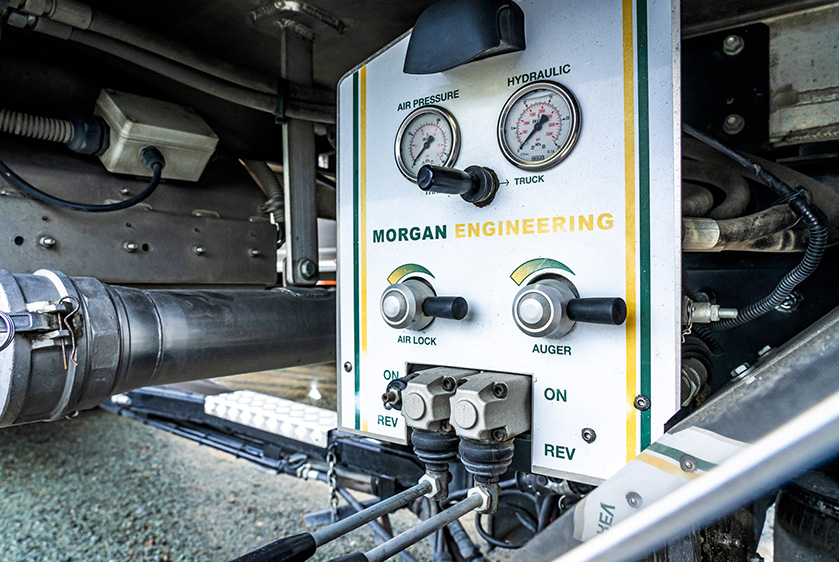 Unique solution
It's safe to say, following the factory modification, Carter's 116 Cascadia is one of its kind in New Zealand and day shift driver Charlie Henry says it's got the better of the Argosy.
"It's more comfortable, it's easier to get in and out and the visibility is good. The DT12 AMT gearbox is also more intelligent – it'll pick up when it needs to shift gear and skip some if it needs too, it doesn't miss a beat.
Night shift driver Dale Taylor, one of two female drivers for Carter's, says the Pusher axle doesn't impact on road performance. "Off-road you need to pick the Pusher up so your drivers maintain traction and for manoeuvrability, but on the road it just feels like any other."
Cascadia is equipped with the latest safety features such as Detroit Assurance 5.0 Collision Mitigation, Active Brake Assist 5.0, Lane Departure Warning and Side Guard Assist. Charlie reckons it's already helped him avoid a potentially dangerous situation.
"I had one incident that gave me a fright. A fella was standing on the edge of the road as I came around a corner and the truck sensors picked him up and applied the emergency braking before I had time to react.
"It did exactly what it was designed to do," adds Dan.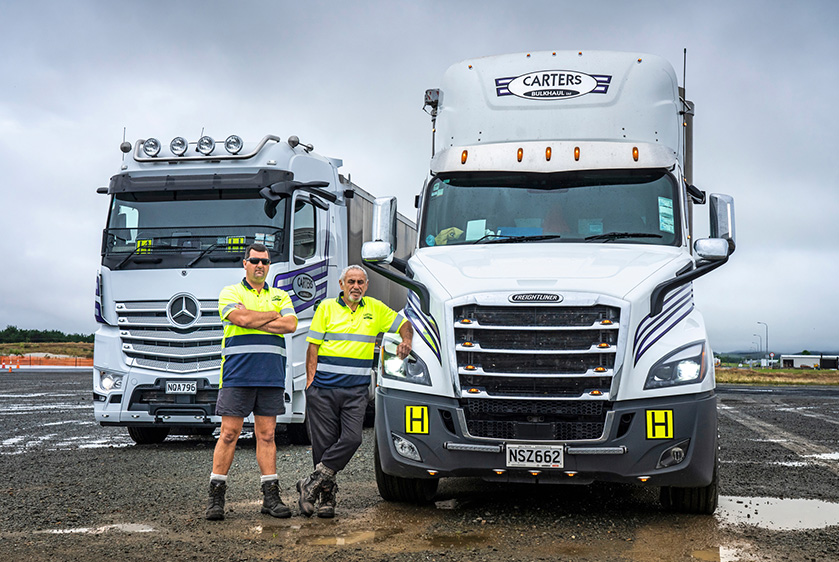 Extended family
Dan's innovative approach to his trucks extends to the three 'blower' units in his fleet, which are used to carry woodchip, stock food, nitrogen fertiliser, sand and aggregate to a range of clients. 
The latest is a brand-new 578hp Mercedes-Benz Arocs is used to 'blow' its payload into farm silos, or it can double up as a bulk tip truck. 
"We went with a blower on the Arocs, because tare weight isn't as important; most silos only take around 12T," explains Dan. 
"It's beautiful to drive. You really notice the difference compared to other trucks and it looks good too – especially at night. A lot of people comment on it and say it's one of the better-looking Mercs around."
The Arocs is similar to the Cascadia in terms of comfort and technology – as you'd expect from another premium Daimler product. Dan laughs as he tells a story about one of his Arocs drivers, Brent.
"His wife hopped in the cab one day and says, 'no wonder you like coming to work!' and then looked in the fridge and stole all his KitKats. Honestly, you can't get Brent out of the thing, he absolutely loves it!"
Safety as standard
The Arocs is equipped with MirrorCam, which Dan rates highly.
"The best thing with it is we have no blind spot! You lose a lot of visibility on conventional mirrors if it's raining, or if you get spray on your side or main mirror, but you don't with MirrorCam."
His two newest trucks were sold to him by Keith Andrews, with whom Carter's had a prior service relationship. That means if anything goes wrong, Dan knows he'll be well looked after.
"We've always stayed with Daimler, because of the service relationship we had with Keith Andrews. I've looked at other brands, but we've never gone to anything else because of the service I get.
"We run seven days a week, 24 hours a day. We need good service."
Backed by the same great service and with two innovative new trucks picking up the baton from the Argosy, Carter's is well set to keep his business moving in the right direction.
To view the rest of the Mercedes-Benz Actors range, click here.