Feature Article
Max power in Pokeno
Last time we spoke to Max Birt Sawmills (MBS) founder Max Birt, he had just taken delivery of New Zealand's first FUSO HD units to run a 55T sticker. Continuing his association with Daimler trucks, he now has two new heavy-duty 57T Mercedes-Benz Arocs in his fleet.
After earning his spurs driving logging trucks around Northland, Max formed MBS over 40 years ago. The company now employs around 180 staff across two Waikato sites – a sawmill and timber processing facility at Pokeno and a timber processing operation 20km away at Ohinewai. 
With more than 6,000 different product lines, MBS has established itself as a leading supplier of outdoor structural timber across Auckland and Waikato.
"One of our key points of difference is specialising in the more intricate cuts the big boys don't do," says Max.
Trucks were not part of the original business plan – but that changed in 2017 when, in response to the Auckland building boom, MBS issued a next-day delivery promise for customers in Auckland, Hamilton, Tauranga. 
The high demand for supplies and guarantee of speedy delivery led to a significant increase in sales – and a logistical headache. 
With a high volume of stock onsite – over 47,000m3 at the time – fulfilling orders was not a problem; the issue was delivering them. An average of 2.1 drops per load exploded to 8-10 drops per load – an undertaking third-party carriers were reluctant to service.
No stranger to the trucking industry, and unafraid to trying bold solutions, Max built his own delivery fleet, which now numbers nine trucks, including five FUSOs and the two new 8x4 Arocs 3253L units. Max has developed a good relationship with Keith Andrews, which delivered him New Zealand's first FUSO HD trucks with a 55T sticker. The North Island Daimler dealer has now delivered two very impressive Mercedes-Benz units into the mix.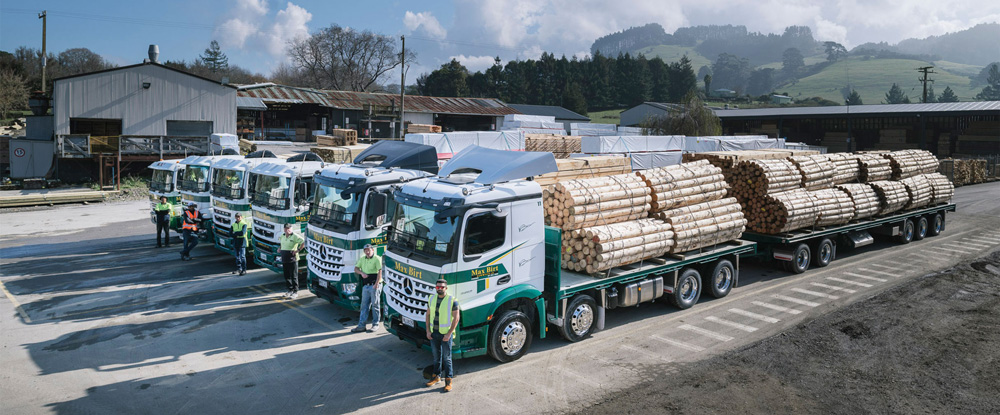 "We've had nothing but satisfaction from Keith Andrews and salesperson Wes Gielink so why would we change?" says Max. "I spoke to Wes and decided the Arocs stacked up for what we needed."
The 530hp MBs run five-axle, 6.5m Roadmaster trailers, delivering a range of products across the North and South Island with an average payload of 34.5T (approximately 46m3 of timber), covering 75,000-85,000km per year.
Max says his drivers appreciate the extra pulling power and the PowerShift 3 automated manual transmission makes longer trips a breeze.
"They certainly enjoy the bigger horsepower and for that reason, we send the Mercs on those longer trips. The Mercs are also a bit more refined in terms of the technology they have on board – but I have to say, those FUSOs are still bloody good trucks!"  
Arocs comes equipped with a range of advanced safety features, including Active Brake Assist 4, MirrorCam, Lane Keeping Assist and Attention Assist.
Max says the drivers have embraced the technology – and he's all for it too.
"The drivers love it, and I think it's the way of the future. We wouldn't buy a truck without advanced safety features now – and that goes for any piece of gear we buy."