Feature Article
Lightning strikes twice
When Richie Belvie needed two more trucks to fulfil a new linehaul contract, he looked no further than the 6x4 Mercedes-Benz Actros LS. It's a decision that could shape the future of his young business. 
For Richie, not a lot matters more than family. Trucks are up there, though. Thanks to his dad – 'Lightning' Jack Belvie, who got his nickname because he could do more loads in a day than anyone else (and from the 1994 Paul Hogan movie of the same name) – diesel runs through his veins. 
In fact, Richie's a third-generation Rotorua-based truckie and, with the help of his business and life partner Ash Henderson, he's done something in the industry no Belvie has done before – started his own company. 
But Richie says his and Ash's ambitions aren't motivated by empire building. They're motivated by community.  
"We didn't start the business to get rich. We wanted to start a family institution that fed back into the community. We want to have our own workshop and office staff, so if one of our drivers has a kid who wants to be an engineer, they can get a start with us. If someone knows a person who wants to be an accountant, they can come down and jump into the office. We actually want our workers to go and start their own businesses." 
It's a powerful idea, fit for a company with purpose and meaning behind its name. 
"Our name is Te Aira Transport", explains Richie. "Te Aira is the Māori middle name of my grandmother and sister, both of whom have passed away. Our logo is two sets of wings. There's meaning and weight behind our name, which makes people care more." 
To realise their dream, Richie and Ash had to roll the dice in a life-changing gamble. 
"I spoke to Paul Stone from Blue Ice Logistics, who is a mentor for me. He sold me our first truck, a Freightliner Argosy. Ash and I sold our home, all our bits and pieces and downgraded everything else to pay for that truck." 
That vehicle was a million-kilometre machine and by the time it had done another 100,000, Te Aira Transport had made enough money to buy another one. Although, if it wasn't for what Richie calls "divine intervention", things may have turned out completely differently. 
"We started Te Aira right as Covid hit. It was scary, but the saving grace was that we had such a good driver. It feels like my grandmother was watching over us, because that driver happened to impress the GM of a major nationwide company with his first run! So from then on, the GM kept requesting our trucks for the Auckland-Christchurch runs." 
When the time came to purchase two new trucks to service a general freight linehaul contract between Auckland and Wellington, Richie says he wanted to keep it in the Daimler family.  
"We loved our Freightliners, but the Argosy has been discontinued. We got some advice to look at its Daimler stablemate, the Actros. As soon as we took one for a drive, the penny dropped. When we eventually replace them, we'll get Mercs again." 
Richie's heart was won over and his head quickly followed suit. 
The Mercs he settled on are two L-Cab ClassicSpace 6x4 Actros units (a 2653 and a 2658), powered by Detroit Diesel-inspired OM471 and OM473 engines.  
The 2653 delivers 530hp / 2,600Nm; the 2658 at 580hp / 2,800Nm. Both run a 50T H sticker on permitted overlength, 36-pallet 6-axle MaxiTRANS B-trains. The low tare weight of the Actros allows for a 28.5T payload.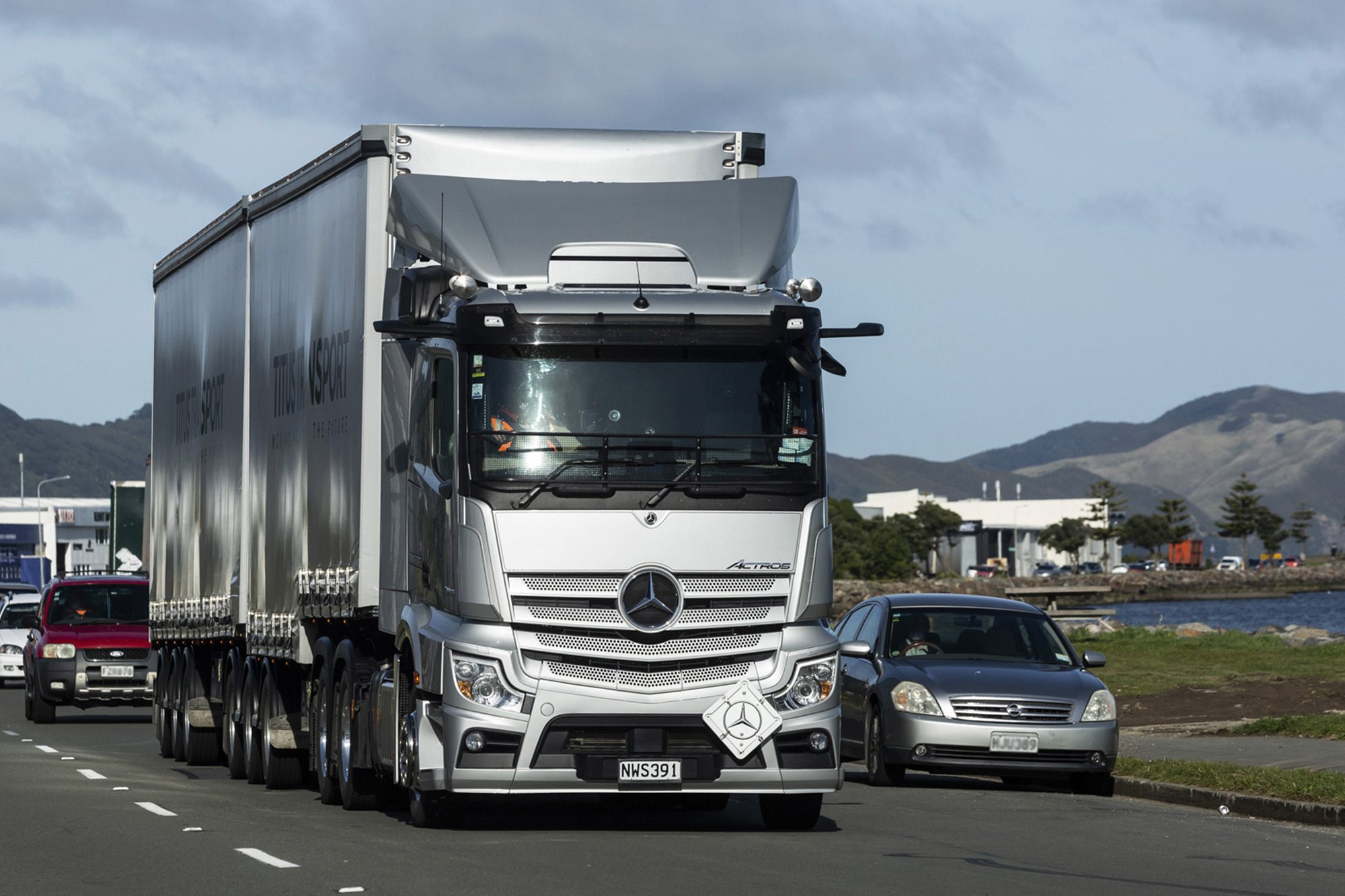 Performance-wise, there's nothing the fully loaded Actros can't handle. Its PowerShift 3 AMT performs so well that Richie laughs when it's suggested that the Bombays might provide a challenge, while Ash says both trucks cruise over more challenging inclines like the one at Mangaweka on SH1, between Taihape and Hunterville. 
On average, the vehicles will clock in 13,000km a month and use state-of-the-art technology to keep the drivers safe, comfortable and in control. 
"These things are built for luxury," says Ash. "Our drivers love them. They're spacious, comfortable, and have a big bed. They're also easy to drive and MirrorCam provides incredible visibility. We can train a new Class 5 driver and the Actros is easy for them to jump in and drive."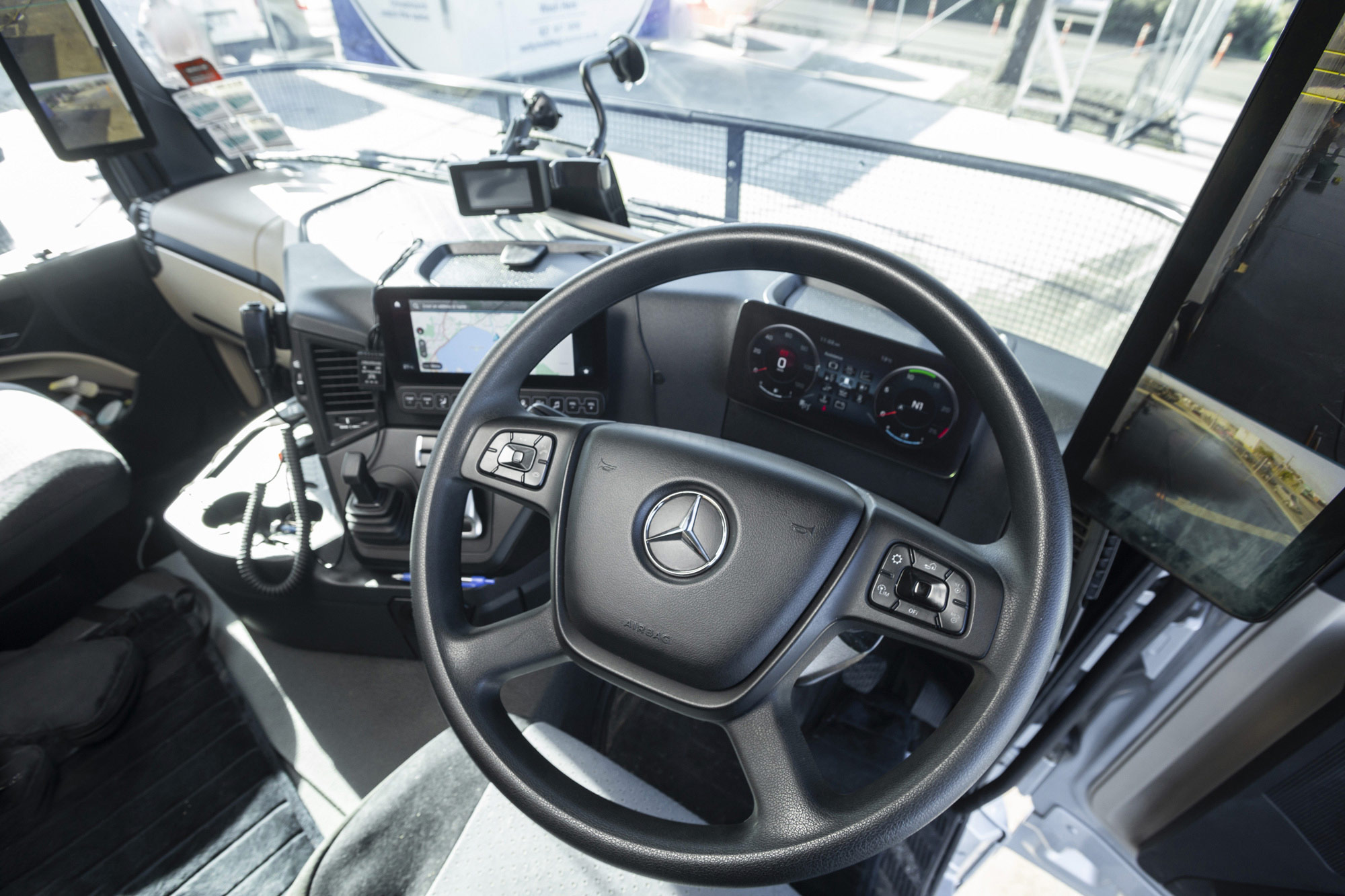 And with a full suite of advanced safety features including Active Brake Assist 5, Proximity Control Assist and Stability Control Assist, Te Aira's owners know their drivers are also more likely to get home safe. 
From an economic point of view, Te Aira's two Mercs work smarter, not harder, delivering the best fuel economy in a fleet of five that includes two Argosy and one other European brand dotted around NZ working on linehaul and logging jobs. 
When Richie was growing up, he used to love flashier rigs with plenty of chrome. Now he realises that you don't need trucks that look like "gorillas beating their chests" Efficiency, safety and comfort are the priority. 
Freightliner might have been his first choice, but Richie confesses Mercedes-Benz is looking likely to be his last love.
To view the rest of the Mercedes-Benz Actros range, click here.