Feature Article
Latest KAT news
There's always heaps going on in the Keith Andrews world and we've rounded up some of the best bits going on around the KAT network over the last few months. 
From apprentice to dealer principal 
Keith Andrews believes in providing its team with the opportunities to excel – and nobody epitomises that more than Keith Andrews Whangārei dealer principal Jason Chambers. 
25 years ago, Jason walked into "the most impressive dealership you've ever seen" to ask for the chance to become an Automotive Apprentice. He was given that chance and he grabbed it with both hands. 
At the time, Keith Andrews himself was dealer principal of the Whangārei branch and, back then, it had only been open for a couple of years. 
Jason recalls: "In those days, there was a general feeling in the workshop like: 'Look out! Keith's coming'. He had that respect. I guess he just had that mana about him, but he always came in and said 'good morning, how's it going?' 
"He was big on making sure everything was clean and tidy. He'd walk past and just point without saying anything, like 'that's not clean enough, that's not tidy enough'. He never yelled. He didn't have to. We just knew what the expectation was." 
Jason respected the ethos of the business and applied as much elbow grease to his role as he did engine grease. He worked his way up to service manager and, in 2018, he was promoted to group service manager. A year later, he added dealer principal to his business card. 
"In every new role, I was able to benefit from a solid support network that allowed me to develop my skills," says Jason.  
Acknowledging Jason's 25-year anniversary, Keith Andrews managing director Aaron Smith says: "Jason embodies the culture of the Keith Andrews network. His passion and expertise for ensuring the highest standards in customer service and operations are qualities that have seen him achieve much within our business and which our Northland customers have come to rely on. We are proud of the experience and passion within our team. These are the foundations on which Keith Andrews is built." 
Freightliner professionals 
Freightliner Cascadia is the most popular heavy-duty truck in its class in America. To ensure Keith Andrews can support 'the best of the U.S', we are busy training the best Freightliner techs in NZ.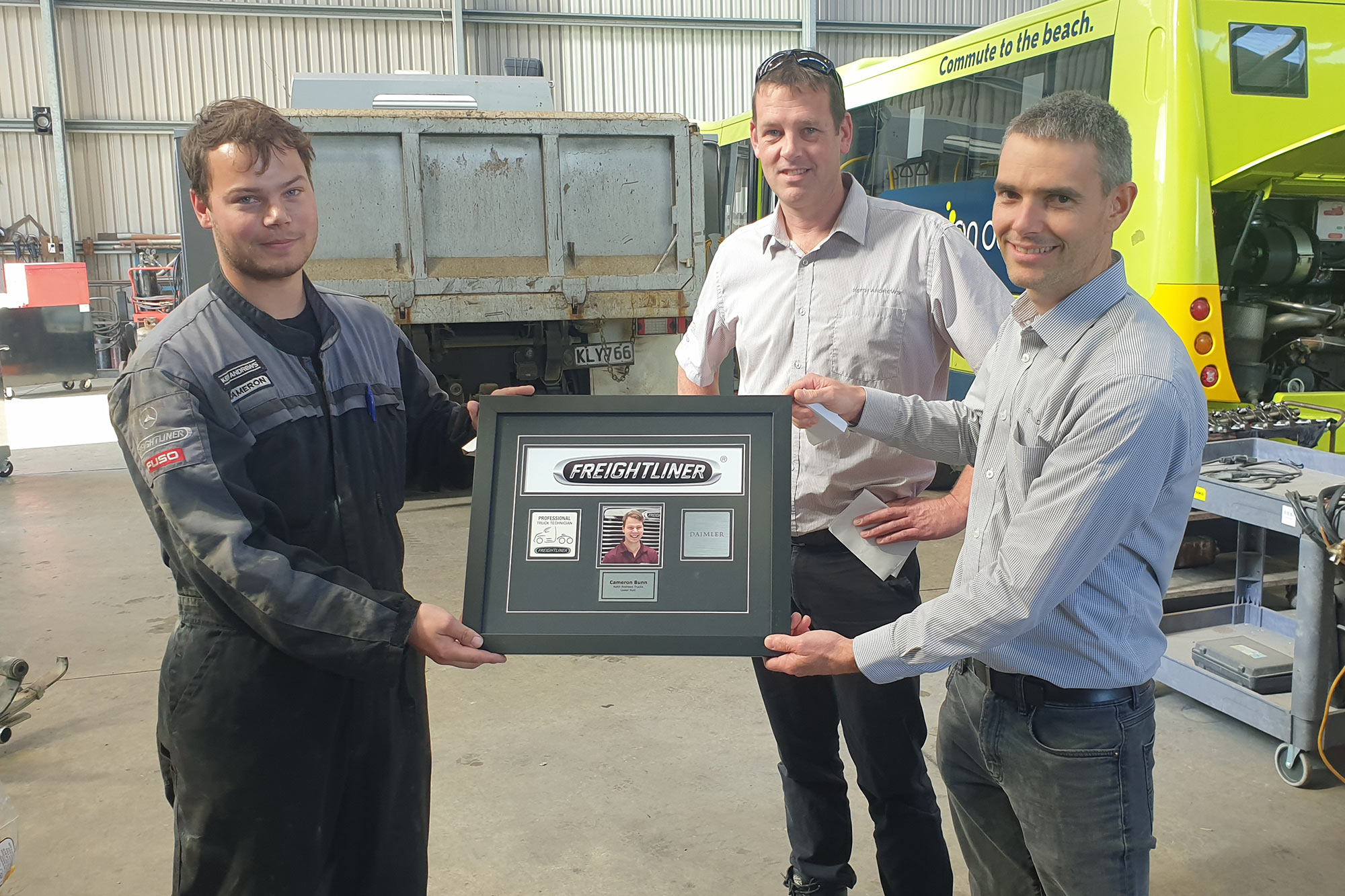 Murray McAulay from Keith Andrews Whāngarei and Cameron Bunn from Keith Andrews Wellington have recently attained Freightliner Professional Qualification. 
The certification involved practical training and assessment, online learning and a rigorous and comprehensive examination.  
Keith Andrews Freightliner customers can rest assured that their American rigs will receive the highest standard of technical care! 
Teamwork makes the dream work 
Outbreaks of winter flu have been popping up all over the country and Keith Andrews is no exception – but it hasn't stopped us from keeping our customers moving! 
The depth of experience within our team, which comes from promoting within our network, meant that service operations controller Cory Dainton and aftersales key account manager Keowne Govender recently swapped their their office shirts for overalls to help out the Keith Andrews Auckland workshop. 
Both Cory and Dainton started their careers with us as technicians, so were able to fill in when illness took its toll on our team. They jumped back onto the tools to ensure our customers got back on the road as quickly as possible.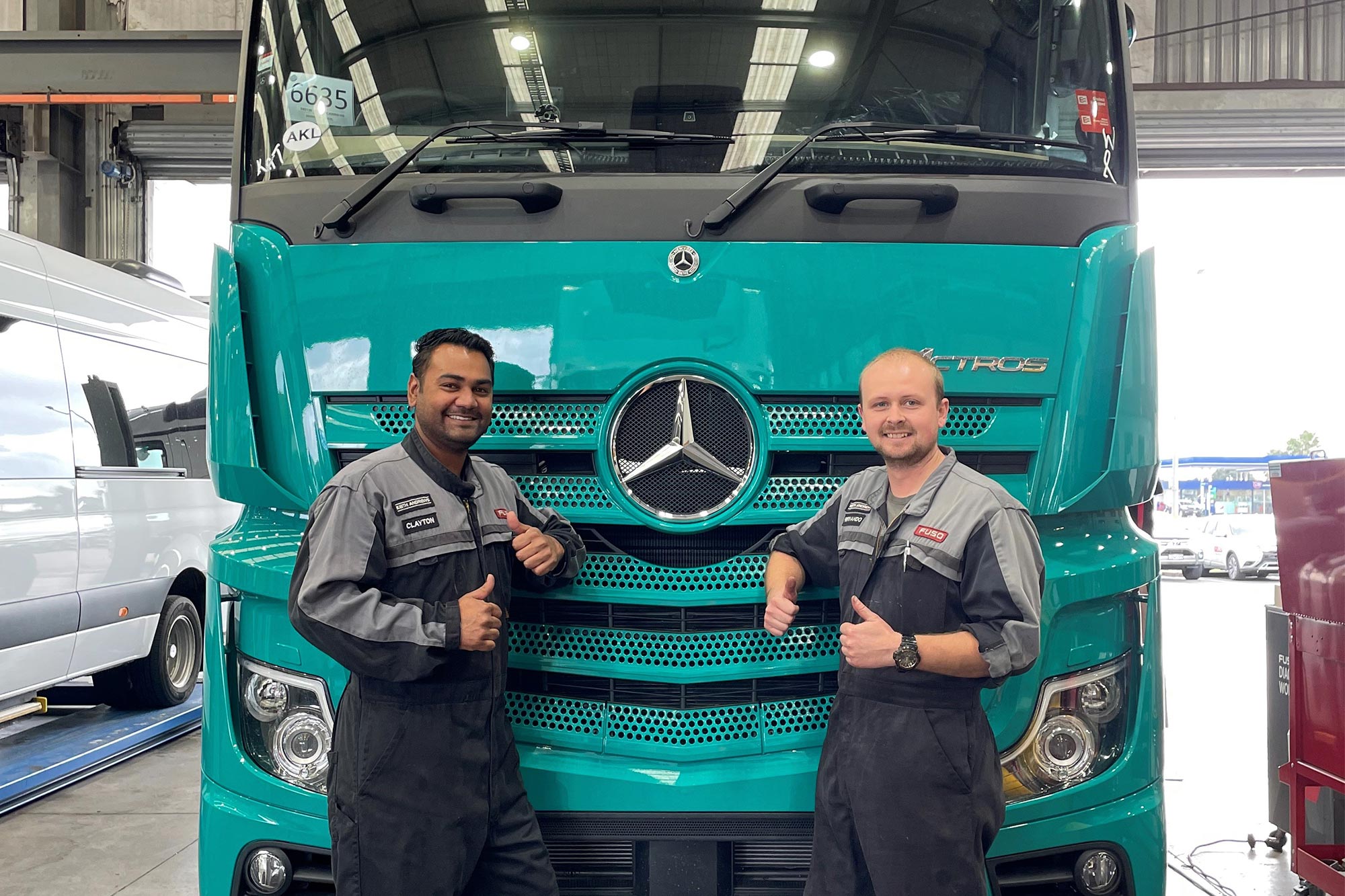 That's what it means to be part of the Keith Andrews family! 
Read more about the rest of the network here.