Feature Article
Embracing the future
PlaceMakers takes its environmental responsibility seriously, which is why it has invested in its first two electric delivery trucks – both of them FUSO eCanters fitted with tipper bodies. In Jason Fisk, the company has a driver who embraces the new technology and is only too pleased to talk about it. 
By adding FUSO eCanters to its fleet, PlaceMakers has joined leaders from other industries, such as Fulton Hogan, Mainfreight and Genesis Energy, in taking a significant step towards reducing its Scope 1 emissions (CO2 emissions from owned or controlled sources).   
"Our aim is to reduce our carbon output by 30% by 2030," says Fleet Optimisation Manager Shafeel Dean. "We have one truck in Wellington and one in Auckland and, if our experience with them goes well, we'll look to make the rest of our tipper fleet electric over the next few years." 
The 100% electric FUSO eCanter produces zero on-road emissions as it goes about its job delivering construction supplies throughout the North Island's two biggest cities. 
With a payload of up to 2.5T in its 4m-long tipper tray, its delivery capacity matches similar sized trucks, but its battery capacity means that considered route planning is required to maximise range and drop-offs. 
 "It has a max range of around 100km, and I usually make six or seven drop-offs a day," says Jason, who is the truck's dedicated driver in Wellington. 
"I work with dispatch very closely. A lot depends on the load I'm carrying and whether the route is flat or hilly. I've learned to get the job furthest away done first then pick up smaller jobs closer to home."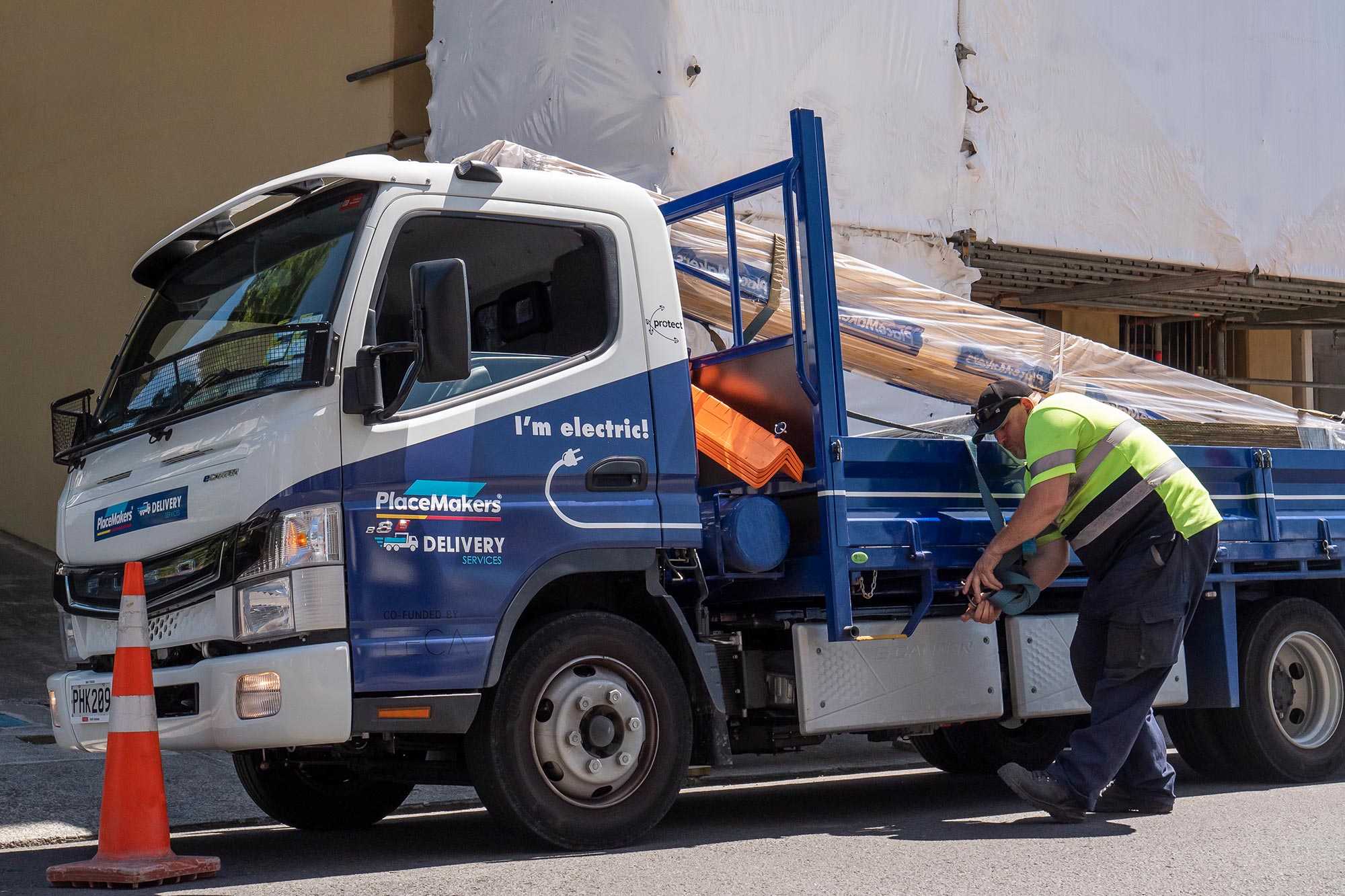 Learning curve 
Shafeel says that driver training is invaluable before climbing onboard an electric truck and adds that FUSO has been very supportive in this respect. 
"Our FUSO account manager spent time with some of our drivers and gave tips on handling and how to get the best out of the batteries," he says. "I was impressed they took the effort to do that." 
Shafeel adds that a lot of the drivers were surprised at the amount of torque eCanter produces. 
"It's really good off the mark," says Jason. "I'm away well before other trucks reach second gear – it's brilliant!" 
Jason says the eCanter performs excellently around Wellington's hilly streets, and even up the Ngauranga Gorge section of SH1, which links Wellington City to its northern suburbs and beyond. With a grade of 8%, it's no walk in the park, but Jason reports that the eCanter has more than enough pulling power from its 420v permanent synchronous electric motor, which produces up to 135kW and 390Nm.  
Of course, what goes up must come down, and that's where the truck's two-way regenerative braking system really comes into play, recovering energy that would otherwise be lost to the brake discs as heat and storing it in the battery instead. Bring on those hills! 
Zero emissions hero 
Jason describes working with the eCanter as "a brave new world" and acknowledges that adopting low or zero-emission modes of transport is the direction businesses need to be heading in. He's proud to be part of it and after seven years with PlaceMakers is grateful for the opportunities he's been given from his management team of Ash Johnson, Paul Bowden and Sean Wilson.  
With its bright blue branding, there are always a few interested looks onsite when Jason pulls up. 
"There have been some builders shocked (no pun intended) that it's electric and I'm always happy to talk about the truck. People even come up to me when I'm charging it for a chat!" 
When it comes to recharging the 81kWh lithium-ion, liquid-cooled battery pack, Jason will plug in overnight at the truck's home depot at Evans Bay and top up if needed at ChargeNet stations along his delivery route.  
Jason likes to top up whenever he gets to around half empty. Using a DC Fast Charger, that takes about 30 minutes.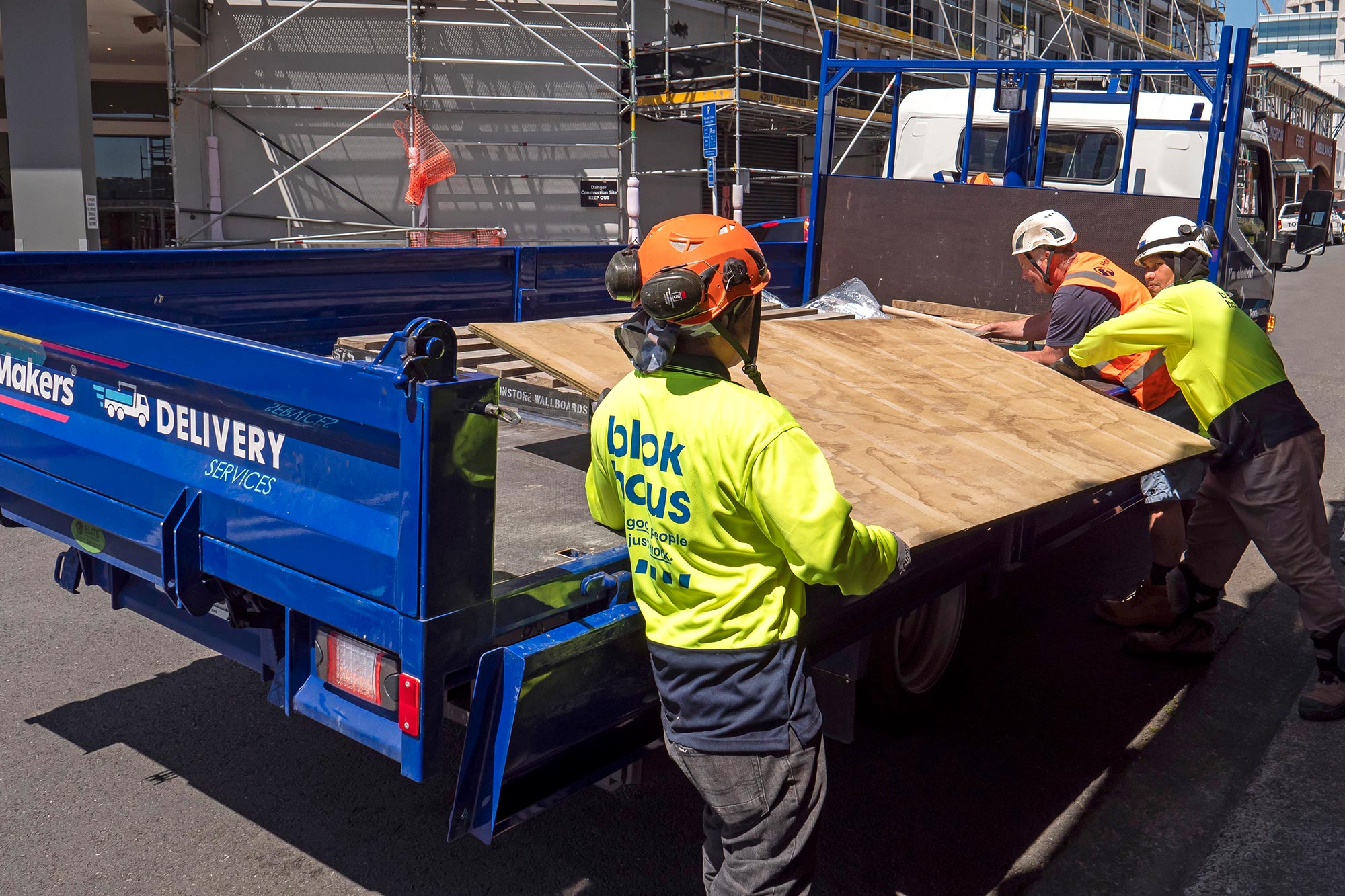 All the mod-cons 
Out on the road, Jason says the cab is well provisioned and comes equipped with all the mod cons such as Apple and Android CarPlay.  
"The cab is really comfortable; the seat is brilliant, and the leaf spring suspension means the ride is smooth – I don't get any bounce from the road at all."  
Jason's experience is echoed by other drivers who have taken the eCanter on a delivery run, says Shafeel. 
"Drivers are saying they're not as fatigued at the end of the day. The old mentality was that you needed to have a truck that bounced you around to keep you awake, but the feedback from the drivers is that they're more alert and more comfortable in the cab."  
He says there is added peace of mind thanks to a safety package that includes Active Emergency Braking, Lane Departure Warning and Electronic Stability Control. 
Reversing into those tight Wellington driveways on residential build sites is also easier with help from the truck's reversing camera, and there is also an unrestricted view out the back of the cab. 
But for Jason and the PlaceMakers team, the eCanter is really all about looking forward – to a more sustainable future, and ensuring they are well-equipped to help their customers reduce the overall carbon footprint of their builds.