Feature Article
Porter Group Invests in the Best
When Porter Group went looking for the best light-duty tipper truck on the market as part of a recent Porter Hire fleet upgrade, it found one clear winner in FUSO Canter.
Porter Hire is emblazoned on a huge range of vehicles and equipment on almost any major civil construction project you could name across New Zealand – and many beyond these shores. 
Established in 1987, Porter Hire is one of Porter Group's eight divisions and has 3,000 pieces of equipment and 200 trucks in its inventory across New Zealand and Australia. It was developed on the back of Arthur Porter's global search for innovative, market-leading construction gear to bring back home. Once word got out that Porter had machines nobody else did, a queue of eager customers quickly formed.
The Group itself was founded as an earthmoving company by Arthur in 1945 and is now run by a third generation of the family, with 16 related companies and 600 staff across four countries – NZ, Australia, Papua New Guinea and the US.
Thanks to its multi-layered approach to business, Porter Group manages to stay ahead of the pack by providing support from concept to completion. Customers can hire vehicles and access equipment, take out finance, transport machines, arrange servicing and source parts 'all under the same roof'. That means when Porter is involved in a project, it's there from soil testing to cutting the ribbon.
Following Arthur's founding principles, the Group's leadership is constantly looking for the edge, says group asset manager Ken Reilly, who explains why a crystal-clear focus on innovative, safe products meant there was only one choice when the time came to upgrade Porter Hire's fleet of light-duty tipper trucks.
"We're always mindful of where the market is heading. One way you can stay in front of the pack is to think about safety.
"The FUSO 6T Canter Tipper's safety features were hands down the best and that's the future. These things are loaded with Active Emergency Braking, Lane Departure Warning, Electronic Stability Control and a reverse camera! The list of safety features is nearly as vast as my brand-new SUV. It really is a credit to FUSO and that will appeal to the larger corporates, we know that.
"Our smaller customers will love them, too, especially if they're new to earthmoving, as they've got the back-up of the safety features."
Ken says Canter delivers on several fronts besides safety.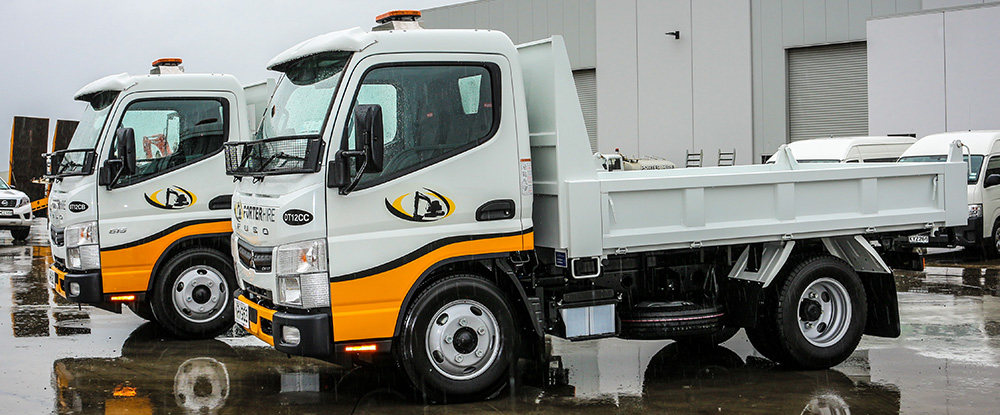 "It's a really good and versatile truck. FUSO's 30,000km extended service intervals creates an environmental 'green' edge over other trucks, and the Canter Tipper's limited slip diff means less time bogged down on a job site. Plus, they just look good."
The truck's smooth and highly efficient 6spd DUONIC 2.0 automated manual transmission is also highly rated by Ken, as is the fact you can drive it on a class one licence.
"These really will sell themselves," says Ken. "Plus, the Canter is very sharp on dollar out to dollar in, and that was critical in our decision-making. Our return on investment will be very good.
"To stay near the front of the pack, you need to put money in. New equipment means fewer breakdowns, less frustrations and more uptime, which is better for us and ultimately better for the customer.
"Of course, we'll only invest in good, reliable equipment that stacks up financially. You can't have anything fragile in the earthmoving world; it has to be robust. In FUSO Canter, you've got a proven product that's very reliable, plus all the safety features and other benefits at a good price.
"We're very happy with our investment and will be looking at more FUSO product in the future. I already have my eye on a Shogun for our Porter Haulage division!" 
To deliver customer satisfaction on every level, performance needs to be matched with service – Ken says this is another area FUSO excels in.
"We love FUSO's nationwide support – they're next level. It's not just the product that's excellent, it's the service as well. A customer of ours can drop in to any service depot and they know they'll be looked after."
Innovation backed by great service and reliability – the very same attributes upon which Porter Group was founded and continues to stand by.
Go FUSO for light-duty tipper trucks
Get in touch with your local FUSO dealer to find the correct light-duty tipper truck for you. We have 616 City Tipper and 818 Wide Cab Tipper options to suit every application and business. Get in touch today!