Feature Article
Brothers in arms
Taylor Bros managing director Andrew Taylor had been holding out for a 'true 500hp Japanese truck' for some time – then the FUSO Shogun 510 arrived. 
With first-hand experience of the reliability and value of FUSO trucks, Andrew had long-wanted a higher powered Shogun that could carry a 27T payload around the construction sites his business services in the Tauranga area. Now he has two, christened 'the twins' (more on that later). 
"We've been waiting and hoping for a higher horsepower Japanese truck, so we were really pleased when we heard that the Shogun 510 was coming," says Andrew, who has a mix of other FUSO trucks in his fleet. "The 510hp 6x4 suits us down to the ground. It's perfectly powered for what we need, it's agile around site and the cab is really comfortable." 
The most powerful Japanese truck available in New Zealand packs a real punch thanks to its Detroit Diesel-inspired 13-litre, OM471 Euro 6 engine. Its 2,500Nm maximum torque peaks at around 900rpm and stays right in the sweet spot to around 1500rpm, which is where it also hits 500hp, reaching full power at around 1600rpm and not dipping back down till the engine passes 1800rpm. 
That means when Taylor Bros drive its fully-loaded Shogun 510 at 1500rpm, it pulls harder than any other Japanese truck on the market.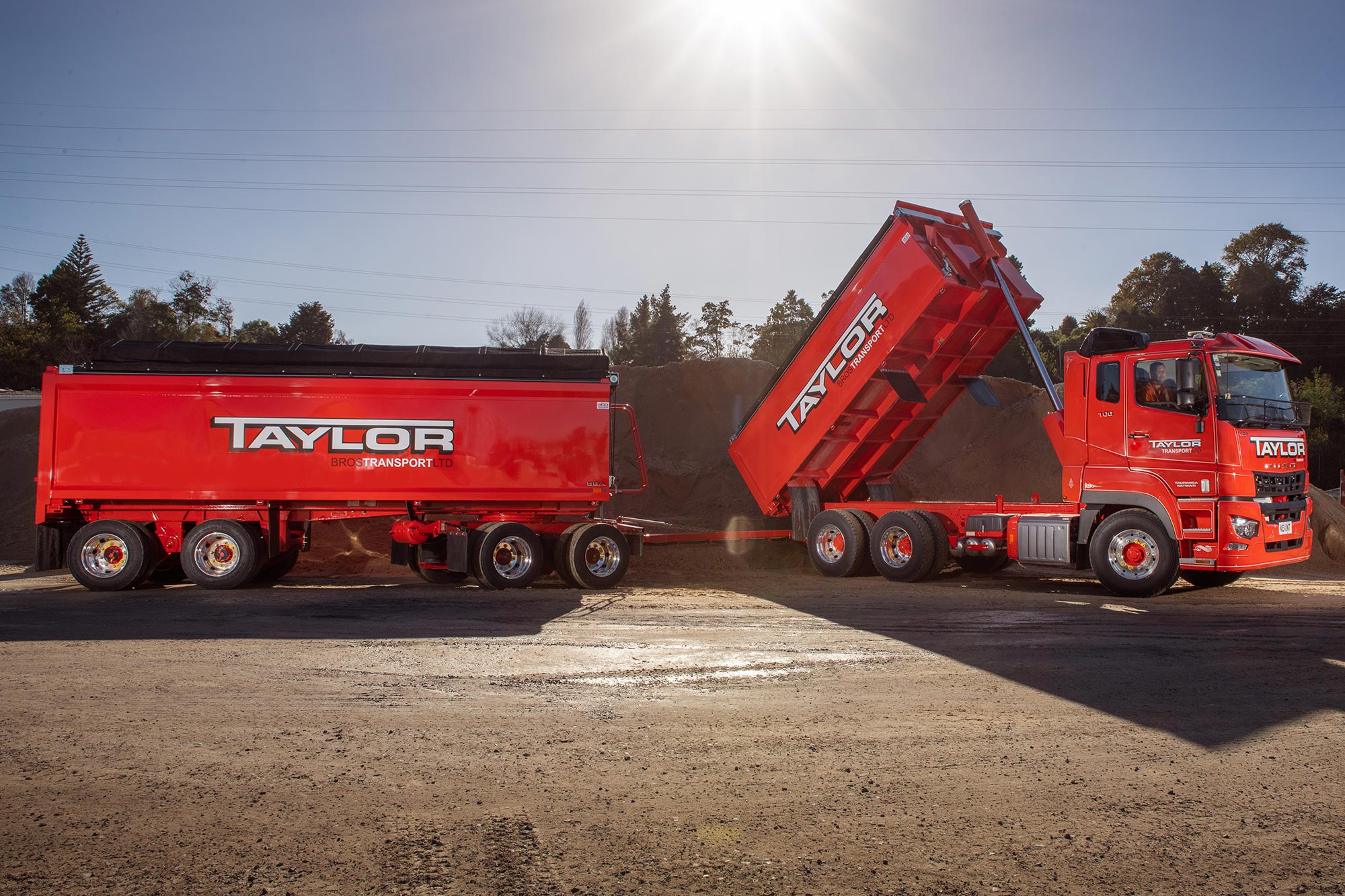 "We were won over by the Detroit-derived engine," says Andrew. "When you think of Detroit products, you think of engines that have a lot of grunt and great torque. Combining Japanese reliability with Daimler components makes it a compelling package. 
"It was also important to us that these trucks were automatic – and the new transmission in the 510 is pretty swish," says Andrew. "We know FUSO has worked hard on getting it right and it shows. Our drivers have commented on how well they work hauling over the Kaimais and we think it'll be well accepted into the marketplace." 
The "swish" performance of the Shogun 510's G330-12 AMT is thanks to 160,000km of testing and refinement on New Zealand roads by experienced Kiwi truckies, who worked with Fuso NZ and Japanese engineers to fine tune the AMT's ShiftPilot software, ensuring precise power and torque delivery as and when needed. 
The two Shogun 6x4s have been fitted with Cambridge Welding tipper bins and tow four-axle trailers, running a 10T / 17T split payload of anything from aggregate to construction waste. Right now, you can spot the 'twins' and their distinctive colours on the Northern Link project between Tauranga and Ōmokoroa. 
Andrew says the distinctive appearance pays respect to the original 'Bros' in the company's name. 
"The idea was to celebrate the legacy of my dad and my uncle, Garry and Kevin Taylor, who founded the business. They're twins, so we bought twin trucks. We played with the colour and gave them personalised number plates to produce a strong-looking vehicle. We've already had a lot of comments about them! " 
It's fitting the company's founders are being represented by two game-changing FUSOs. Taylor Bros has been operating since 1965 and, as Kevin explains, "was built on Japanese trucks". Mitsubishi Fuso arrived in New Zealand shortly after Garry and Kevin had set up the business, challenging the traditional British brands such as Bedford and Leyland and changing the landscape for Kiwi transport operators for the next 50 years. 
"Over our time in the industry, Japanese trucks have helped establish a lot of transport businesses," says Garry.  
Where reliability and power are key advantages for the Taylor family, Andrew says Shogun's safety credentials are another big plus for this new generation of trucks.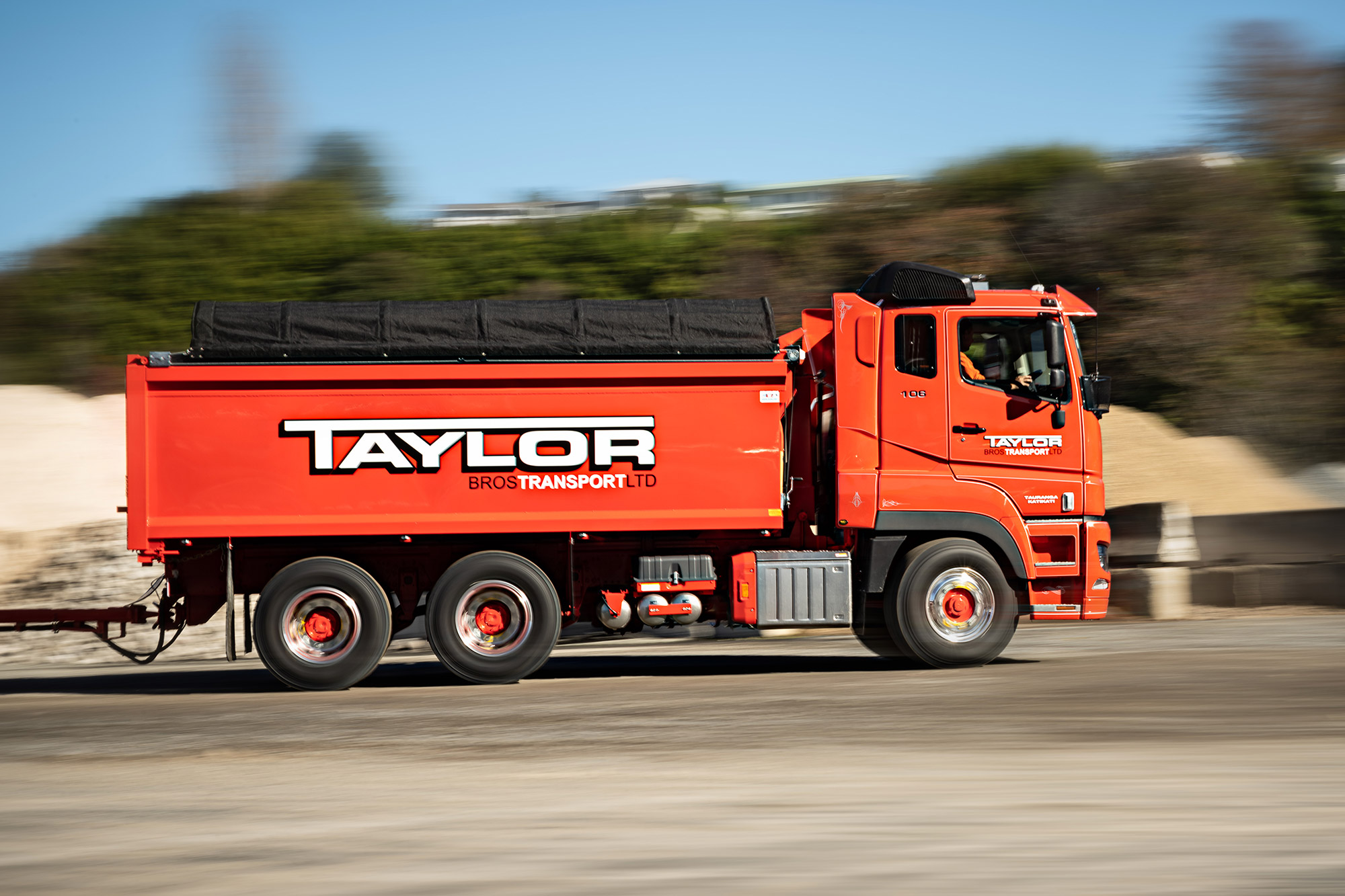 "They are packed to the brim with brilliant safety features such as Active Brake Assist 5 and Sideguard Assist," he says. "Touch wood, we haven't had any close calls yet, but it's comforting to know that our drivers are now safer as they go about their work. 
"That said, the drivers are very pleased with their new trucks and have already commented about the all-round improvements. That gives me tremendous satisfaction as an owner." 
If the trucks keep performing to their powerful best, proudly carrying the Taylor Bros. good name across the Bay of Plenty region, it's fair to say the legacy of founding twins Kevin and Gary continues safely in the hands of an impressive new double act.