Feature Article
Rescue Partners
When everyone else is heading in, Coastguard NZ is heading out. Thanks to a Lotto-funded donation of 22 high-performance America's Cup chase boats, plus a new partnership with Keith Andrews Trucks and FUSO, its volunteer rescue crews can now head out with greater confidence to save lives in the toughest conditions. 
The plan from Lotto NZ in funding a fleet of power boats for the America's Cup was always to repurpose them for Coastguard following the race. "To have a gift like this is unlike anything we have seen before," explains Coastguard NZ Head of Operations Rob McCaw.  
"It really will help us save more lives." A complete refit is required before the chase boats are fit for duty as rescue vessels. "It's the difference between a Holden Commodore being using as a pace car for Bathhurst versus a cop car," says Rob.  
"In a number of cases, these new vessels will replace older, less capable boats. Case in point is Coastguard North Kaipara, based out of Tinopai in Northland. The team has one of the new 9m Rayglass Protector utility vessels, which is enabling them to conduct rescues out over the Kaipara Bar, something they struggled with in their old vessel." 
Powered by a 450hp engine and able to reach speeds up to 80km/hr, the new rescue vessel is "shipping greenies" (large volume waves) as it ploughs through the dangerous swell caused by the bar. 
In the new boat, pilots can make a much more dynamic crossing; rapidly accelerating or decelerating to time their passage through the waves, aided also by the longer prow. 
It's not just Coastguard North Kaipara that will benefit. Right now, five other vessels are being readied for action on some of New Zealand's remote lakes. To get them there, and to hard-to-reach launch sites around the lakes' edges, new fit-for-purpose tow vehicles were required. 
"The picture I had in my head was Coastguard Wanaka or Coastguard Lake Brunner getting a callout in the dark of night, in winter, to deploy for a search and rescue event," says Rob. "This needs a truck that can carry a crew of up to five volunteers, pull a 4T boat on a 1T trailer and handle tight, winding roads, steep hills, wet, icy conditions and tricky offroad launch points."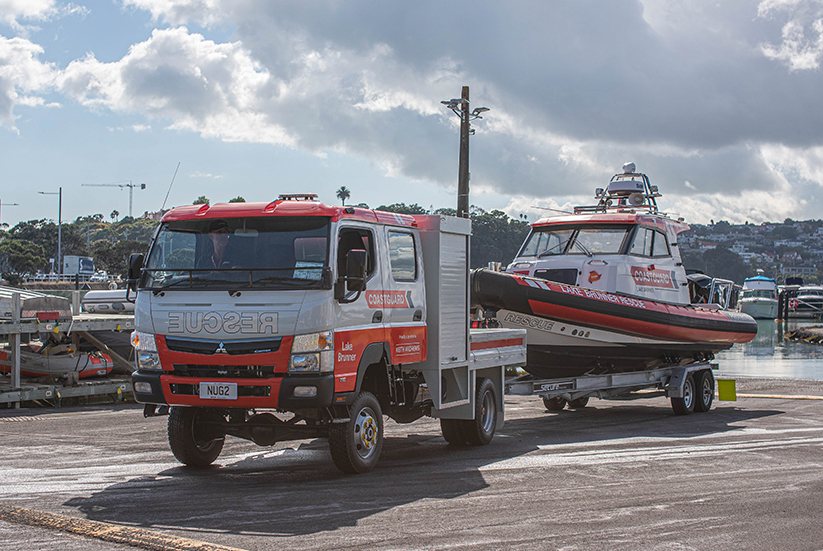 An RFP was issued and one clear winner emerged – the FUSO 4WD Canter 716 Crew Cab from Keith Andrews. 
"Getting the right truck and partnering with the right supplier was critical for us," says Rob. "What we have selected here is not just a batch of trucks, it is a rescue partner for the future. 
"The trucks themselves form a complete rescue system with the boats they are towing and a full crew on board. Our intention is to standardise these units across the country as the time comes to retire older vehicles. 
"Canter meets all of our requirements as a tow and rescue vehicle. The 4WD capability, with lockable front hubs and rear limited slip diff, will enable our crews to deploy across a range of terrain and conditions on lake edges and rocky shorelines. 
"We have had them fitted with storage units for cold and wet weather gear, spare kit and equipment, and there's still space in the tray if needed for small items of recovered wreckage." 
It's not always a short trip to the beach, as Rob explains.  
"These units need to be able to travel from their base and deploy to various locations on a range of mission-sets, potentially some distance away – as demonstrated by our support of the fire-fighting efforts around the Southern Lakes."  
"As a Class 2 category vehicle, we will have designated drivers and are funding training where needed. We would encourage any truck drivers out there already on Class 2 licences or higher, who want to give back to their local communities in a truly rewarding way, to get in touch!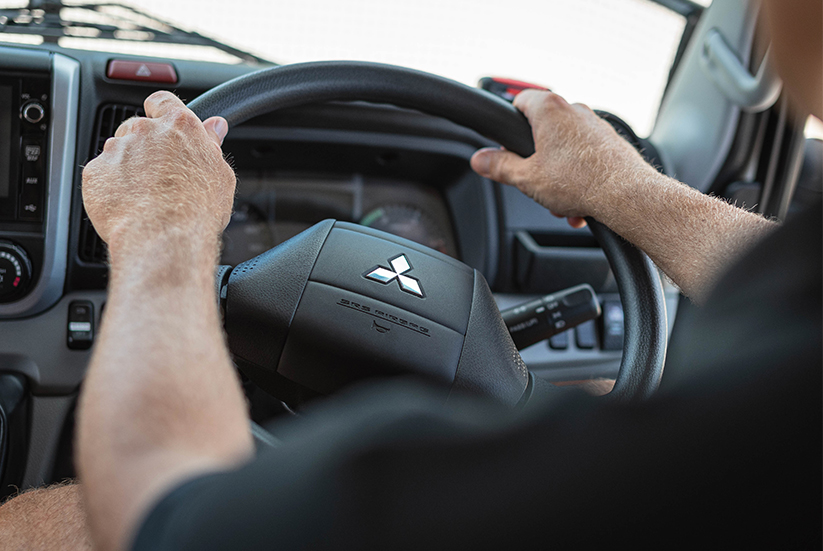 "People don't always realise that being a Coastguard volunteer doesn't necessarily mean you have to go out on the water. There are various ways people can help. Having a designated driver for these trucks also means that the rest of the crew can sleep or prepare themselves on the journey."  
Rob says another big factor in the decision to go with Canter was its ability to meet the legal requirements of a Travel Time Exemption Certificate, which means it can tow the 9m Rayglass boats without needing a pilot vehicle.  
"We conducted a Swept Path Assessment and included that with the RFP," says Rob.  
"Canter's wheelbase, turning circle and pivot points with a trailer in tow ticked all the boxes."  
Another big tick came from thinking 'outside the box', when Keith Andrews provided storage space at its Auckland dealership for some of Coastguard's new boats.  
"We were facing huge costs to have these boats docked at marinas around Auckland while waiting for their refit, so being able to keep them at Keith Andrews was a real help for us," says Rob.  
"Both sides have approached this as a partnership, which is exactly what we wanted."  
Just as boaties can head out on the water confident that Coastguard has got their back, our volunteer lifesaving force can focus on the task at hand knowing that Keith Andrews and FUSO have got theirs.