Feature Article
Rapt in the 'Rapa
When Clinton Carroll of Wairarapa Weedsprayers rolls through the next paddock gate, he wants to arrive in relative comfort, confident he can navigate whatever undulating, soggy terrain lies in wait – which is why he's rapt with his Canter 4WD, a 6T light-duty truck that does the job on the road and off.
Operating in a 60-70km radius from their Te Whiti base in Wairarapa, 90 minutes north of Wellington, Clinton and his team service a wide range of agriculture customers – an industry that accounts for 8.1% of the region's GDP.
Clients are dotted around the business' service area, so a vehicle that handles well on the road with dual 18-inch tractor tyres on the back is a must, Clinton explains. Being able to drive it on a car licence is also a bonus.
"We do a couple of hours at one site, then travel up to 30km to the next," says Clinton. "We're on the road a lot, so we need that versatility. Canter drives pretty nicely and it's comfortable."
Land Cruisers used to be the go-to vehicle for this type of work, but Clinton bought his first Canter in 2005 because it could carry more and cost less; plus he was able to put larger tyres on it without lifting the body. It's also better on hills, especially with dual wheels on the back and limited slip diff, which improve stability, traction and all-round off-road performance.
Wairarapa paddocks put up different and equally tough challenges throughout the year. To tackle the worse that summer and autumn can throw at them, Clinton has armoured his Canters with brackets over vulnerable wires and underplates to stop thistles and birch husks clogging the radiator.
Apart from those modifications, Canter 4WD is purpose-built for his requirements and well-equipped to deal with wet winters and soggy springs.
"The Wairarapa can get very wet. It tends to be clay country around here, but the Canter is perfect for those conditions; it ticks all our boxes. It doesn't sink into the ground, which means we can get on the paddocks even in the rain.
"The short wheelbase is good, especially on hills, and it is very manoeuvrable with a brilliant turning circle and an amazing lock. We need that, because we stick to the headland wheel lines we created on our previous pass, which avoids unnecessary damage to the crop."
The trucks carry 2,100L of mixed chemicals as well as 300L of freshwater – enough for an hour's spraying in an average paddock of four to six hectares.
In the paddock, Canter's FUSO M038S5 transmission and 160hp/370Nm engine (max torque @ 1350-2840rpm) come into their own.
"On flat, dry ground we run in high second, which brings our revs down to around 1200-1800," explains Clinton.
"When we're on rolling paddocks, we need the revs higher, so that we don't run out of power; plus, if they're too low, we can get bogged down in wet spots.
"On steeper hill work, I run in low second, which has plenty of power and brings the revs up a little."
Another important consideration for Clinton is Canter's 12-volt electric system, which allows seamless integration of accessories.
"We've got a lot of computers in the cab to monitor spray rates and chemical mixes – these need to run off a 12V power supply, which is what you get from Canter. Other trucks are 24V, so we'd need to install voltage reducers. Canter keeps it simple."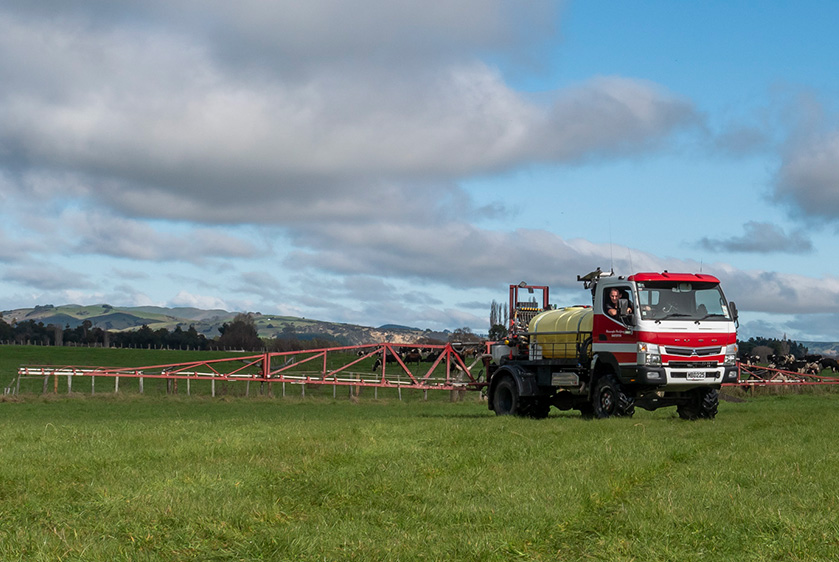 Clinton has seen the development of Canter over the 16 years he's been buying them and says he can notice the improvement.
His latest purchase is a brand-new model with touchscreen multimedia unit and reverse camera, which benefits health and safety on-site thanks to the increased visibility offered to drivers.
"The new models also have a bit more power than the old ones. They're quieter and the hands-free kit is very good. Fuel economy wise, they're not expensive to run. We probably use 50L or 60L a day out of an 80L tank."
Clinton plans to buy a new Canter every two years to keep his fleet of seven up to date.
"We haven't had to spend any money on them. They've always been trouble-free," says Clinton.
With reliability like that, no wonder Clinton is rapt in the 'Rapa.
FUSO first for light-duty trucks
Contact to your local FUSO dealer to get the right light-duty truck for your business. We have 6T and 7T single and double cab 4WD options, plus tipper and a wide range of cab chassis models, and the new all-electric eCanter. Get in touch today!