Feature Article
Powering up
Heavy Metal Haulage boss Rodney Kempthorne was the first Kiwi operator to run a FUSO 400 V8 factory twin steer. Now with a range of trucks in his fleet bearing the three-diamond badge, the vastly experienced operator has just added Japan's most powerful truck to its number. 
Offered a 510hp Shogun demo unit to trial, Rodney says it was an opportunity too good to turn down.  
"We were thinking about getting a new truck and this was available immediately, so we couldn't say no." 
FUSO's proven reliability and value for money are what led Rodney to recruit 20 of them to his fleet – a mix of Shogun 6M70s, four HDs and one Fighter, working in roading, construction or farming throughout Hamilton and the greater Waikato region. 
"I've also still got an old V8," chuckles Rodney. "It's done over a million kilometres and all we've had to replace is a few clutches and brakes!" 
The new Shogun FV2651K is light years ahead of its predecessor and made an instant impression. "The demo unit suited us really well," says Rodney, "Our driver 'Rocket' can't believe how smooth the ride is, how quick it goes and how quiet it is!" 
It'll do about 85,000km a year and on a route that includes tackling the hills between Raglan and Hamilton, where having a rig you can rely on is vital. 
"I'd say maybe a third of the day is on hills," says driver Dave 'Rocket' Gibbons. "The first time I got in it I went 'holy cow, this thing goes!'  
"The Shogun has a very good engine with excellent torque, I expected it to be powerful but it's even better than I thought it would be. Let's say I'm happy to have 510 horsepower behind me!" 
While other Japanese big-hitters give up the ghost after 1300prm, the Shogun's 13-litre Detroit Diesel-inspired OM471 engine keeps pulling well past that. 
Showing its class 
But it's not only going up where the truck shows its class – Rocket says "the Jake brake is amazing" – and, along with the transmission, results in a truck that performs "really well down the hills".  
That performance of the ShiftPilot AMT can be put down to the meticulous research FUSO carried out on the transmission during the 510's development – it was tested on 160,000km of Kiwi roads by Kiwi truckers and it shows. 
This is the first auto that Rocket has driven in 10 years working for Heavy Metal Haulage, and he laughs when he says "it's taken a little while to get used to it", but he adds: "The gearbox does what I think it should a lot. I can be on a hill thinking 'I'd probably change about now' and just like that, the computer changes it. Autos have certainly come a long way since they first came into trucks." 
Eating hills for breakfast is only one part of the job. The 510 can often be found hauling a four-axle, steel trailer through muddy construction sites with a 27T payload. 
"We also do logging roads for the logging trucks, we do a lot of site works or I'll find myself on sandy hills or going through mud." says Rocket. 
To make life easier, the trailer's 11R22 tyres match those on the Shogun. 
"It means Rocket can go pretty much anywhere, because they roll easier, which is especially useful for those wet forestry roads."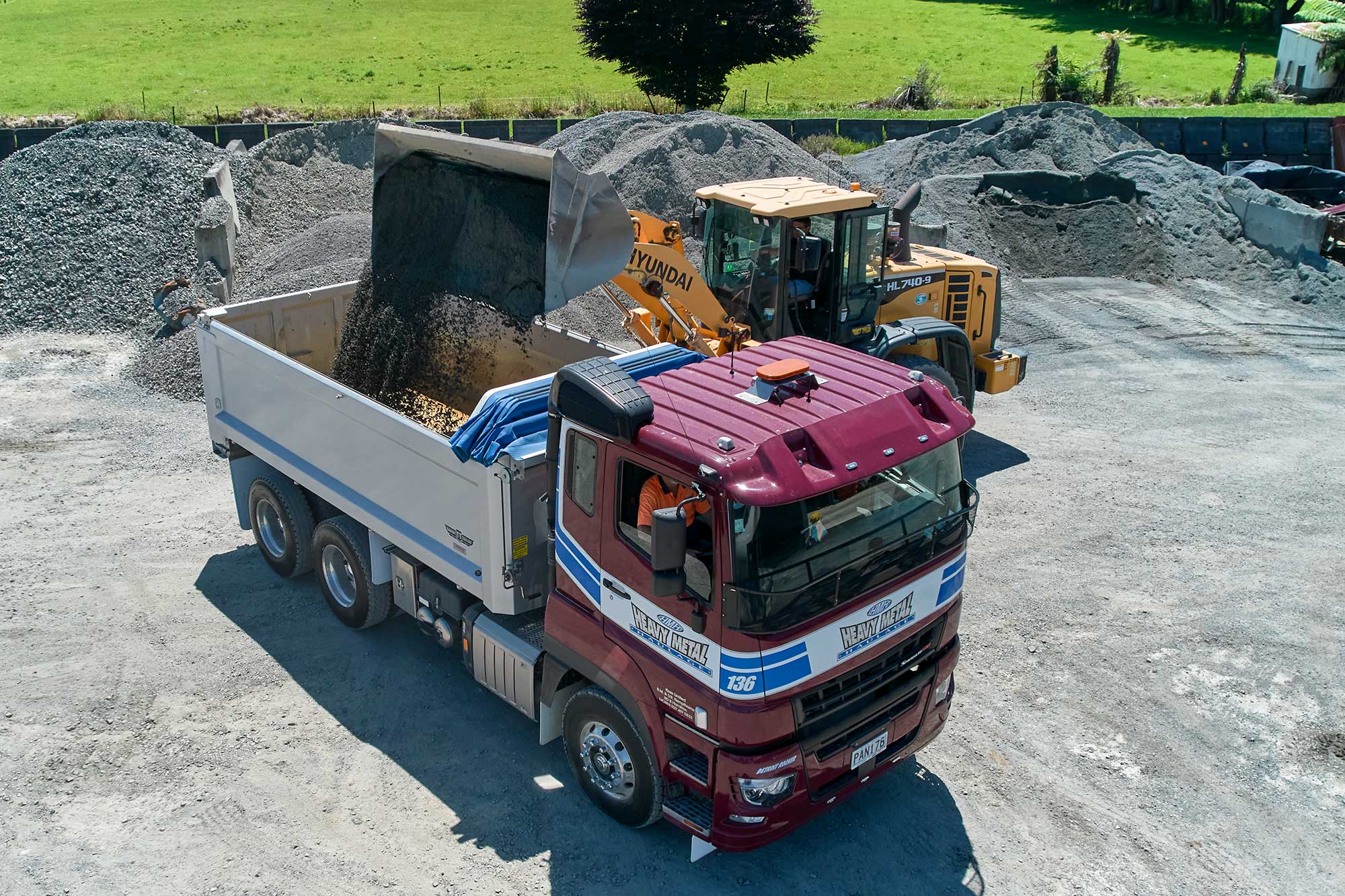 In these situations, Rocket likes to take control of the gears and rates the ShiftPilot's manual mode as "bloody awesome" in conjunction with the huge 2,500Nm torque that's on tap. 
"I find it really bites in and pulls, so you can get out of a few more situations than in other trucks," he says. 
Where he doesn't feel the bite is climbing out of the cab at the end of a shift, thanks to the smooth ride and well-designed interior. 
"I love the airbags! I used to brace myself when I went over bumps, but I don't have to now!" 
"It's really comfortable and stylish and the visibility is great." 
Rodney is pretty stoked too and says he expects the new Shogun to last at least a decade – but jokes it's got some battle ahead of it to match the legacy of its FUSO siblings. That's a battle it's well-equipped to win. 
Contact your nearest FUSO dealer to discuss FUSO Shogun large trucks for sale, and more options.