Feature Article
Outstanding in Feilding
Feilding is a small place with a big reputation. It's regularly voted New Zealand's Most Beautiful Town and plays a crucial role in the Manawatū-Whanganui economy, boasting the biggest saleyard in the Southern Hemisphere. Its lifeblood is people like Paul Rooney of Taonui Groundspreading, and the top-class service he provides in his brand-new 4x4 Mercedes-Benz Atego 1630. 
Paul recently traded in his second-hand spreader for a brand-new Mercedes-Benz Atego  – and the 16T unit sets an impressive figure sitting in the yard of Taonui Groundspreading's HQ, fitted with a stainless steel, Spreadmark-certified bin – a quality assurance programme that guarantees accurate fertiliser distribution – built by Mid-Island Spreading. 
"Paul Hoyle from Mid Island Spreading is a total spreading expert," says Paul.  
"It was his suggestion to look at the Atego and I'm glad I followed his advice!"  
Taonui Groundspreading's yard is based in Bunnythorpe and Paul will spread anywhere within a 65km radius from Feilding. 
He splits his work between dairy, sheep and dry stock farms, carrying 6T of superphosphate, DAP or nitrogen as the job requires.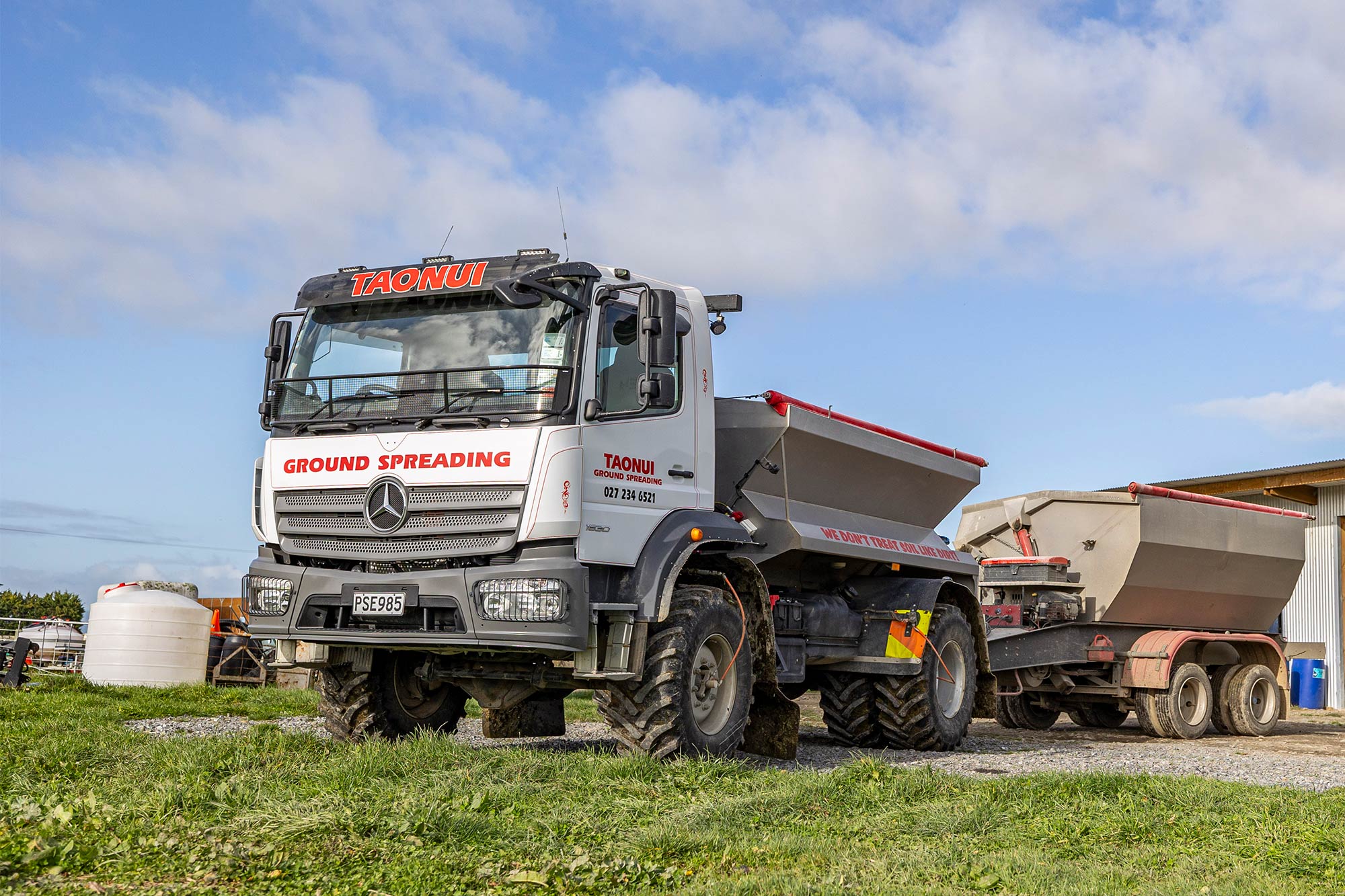 "I'll usually spread the nitrogen-based fert at 65-120kg per hectare at a width of 28m and I can spread urea as low as 20kg per hectare at a width of 28m. For maintenance products, like superphosphate, it depends on the client's chequebook! I've spread up to 1,000kg per hectare in the past, but that customer has cut back to 400kg now. 
"For lime products, I bring the width in to 16m and spread anywhere from 500kg to 5,000kg per hectare – although I could go to 10,000kg per hectare if the client needed!" 
The bin is fitted with a double chain, which means Paul can spread along a fence line out of one side. 
"That saves wastage and wear and tear, because I have two chains working instead of one."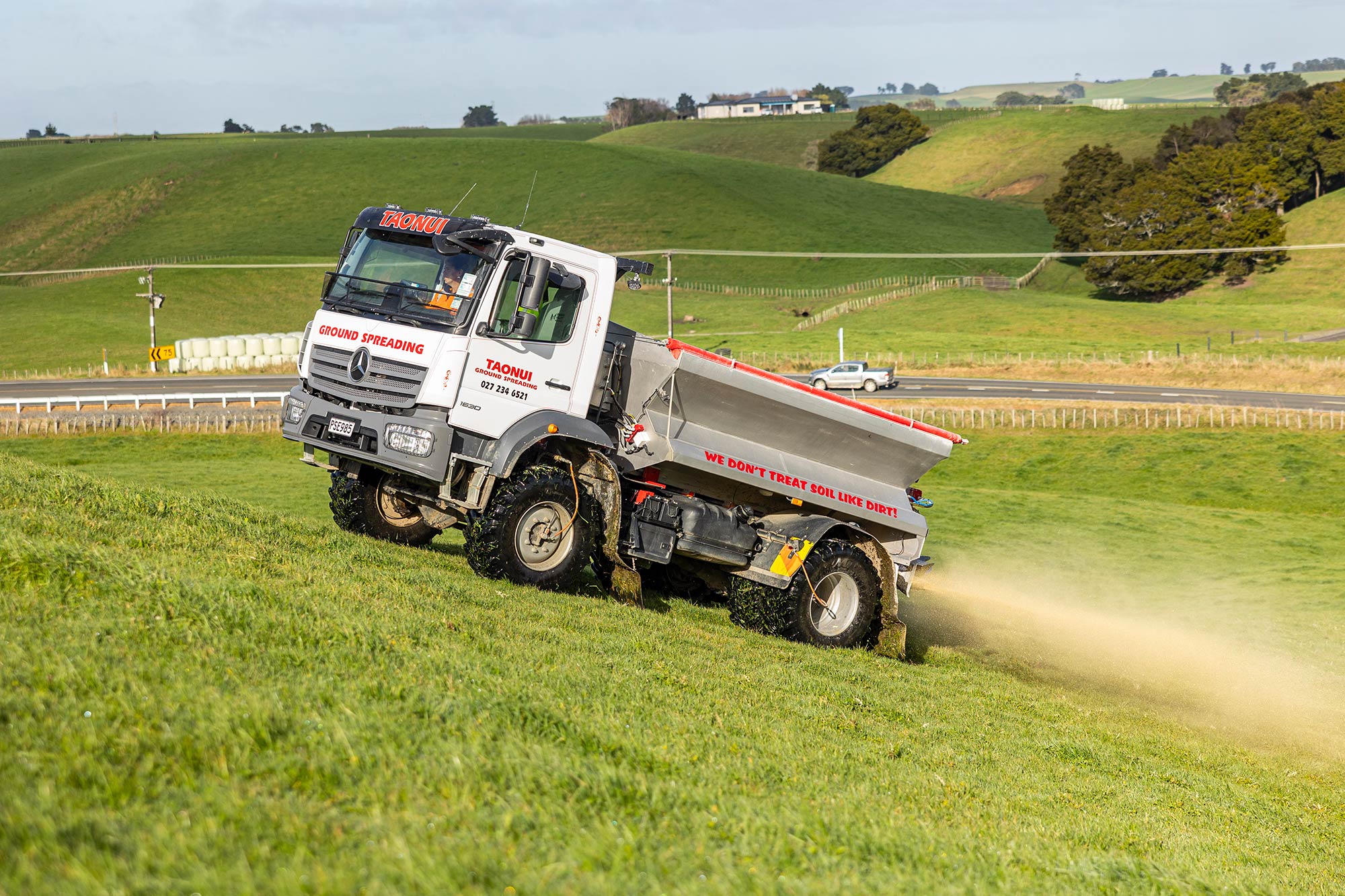 In the paddock, Paul uses TrackMap GPS guidance system and Bigfoot central tyre inflation system to drop down to 25psi on 445/65R22.5 Mitas tyres.  
"I can go down to 15psi if the ground is boggy," he adds – which lately, it has been due to the unusually wet 2022/23 spreading season. Thankfully, the Atego's drivetrain is more than up to the challenge. 
The 300hp engine produces up to 1200Nm torque and is matched to an "excellent" nine-speed PowerShift manual transmission with single plate clutch. 
"Other brands I looked at only had six-speed transmissions, which isn't great for pulling the trailer, and it's hard on the diffs. Having extra gears is a real plus."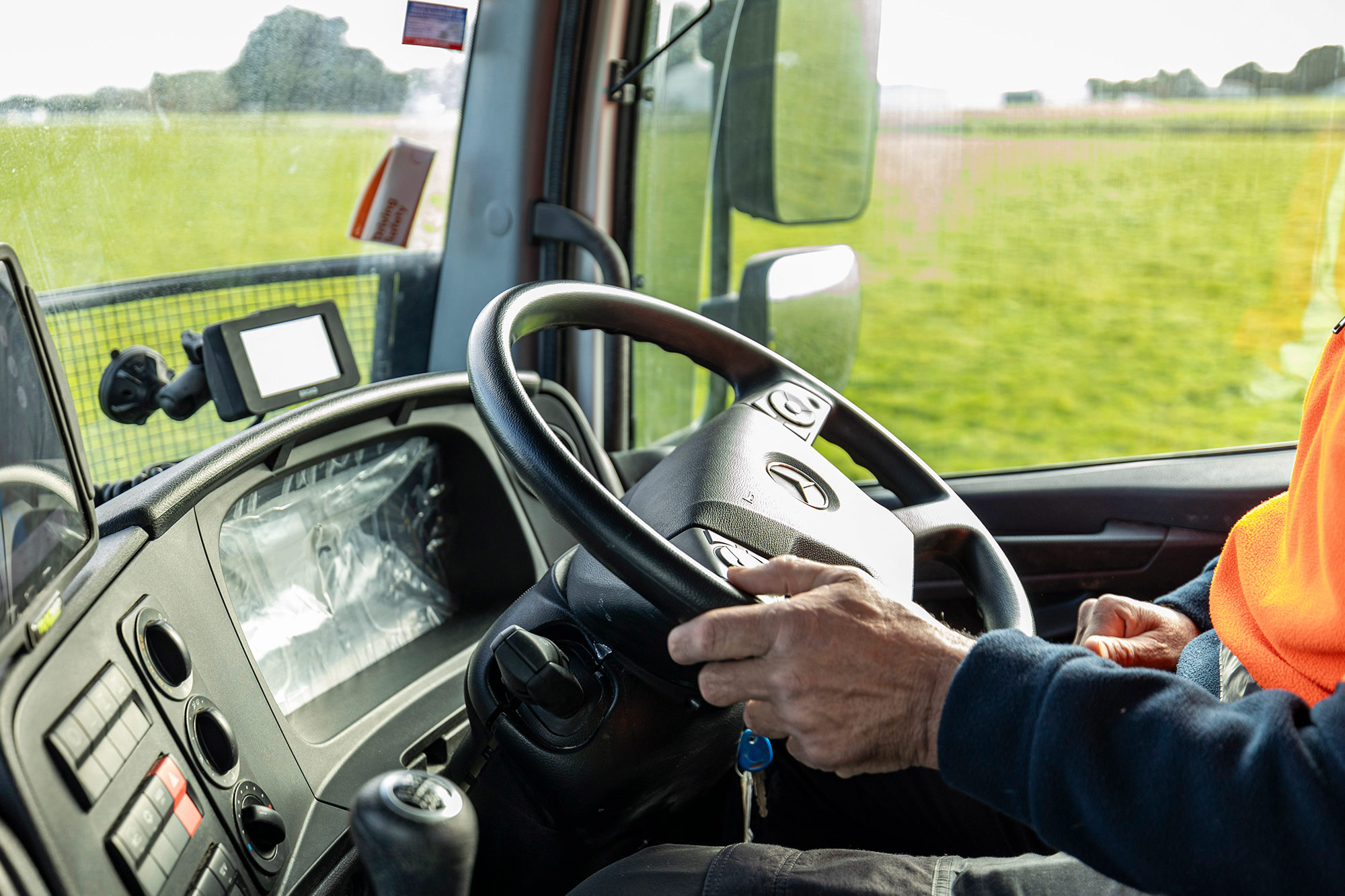 He keeps the rev needle steady at around 1800rpm and says the torque delivery produces the "perfect" amount of traction out on the paddock and allows him to work in wetter, more difficult conditions to extend the spreading season "and add more revenue for the business". 
While much of the surrounding region is as flat as a pancake, there are a few hills around that Paul says the Atego handles with ease. 
"You've got Kimbolton Road, which is hard on trucks. It's a 20km, steep gradient that doesn't ease off. In my old truck and trailer, I'd be pulling 12T at 45km/h, but in the Merc I can do 14T with a trailer at 75km/h. 
"It's got a tare weight around 8T, which means it's got a brilliant power-to-weight ratio." 
Paul says increased performance on this stretch of road was one of the reasons he wanted a new truck – and now he can carry bigger loads, faster, to get more jobs done in a day. 
"I also wanted one that could get through tight accessways easily and navigate fields with plenty of trees. The Atego does all that. It's very nimble with a tight turning circle and is also a really comfortable truck to drive with great visibility."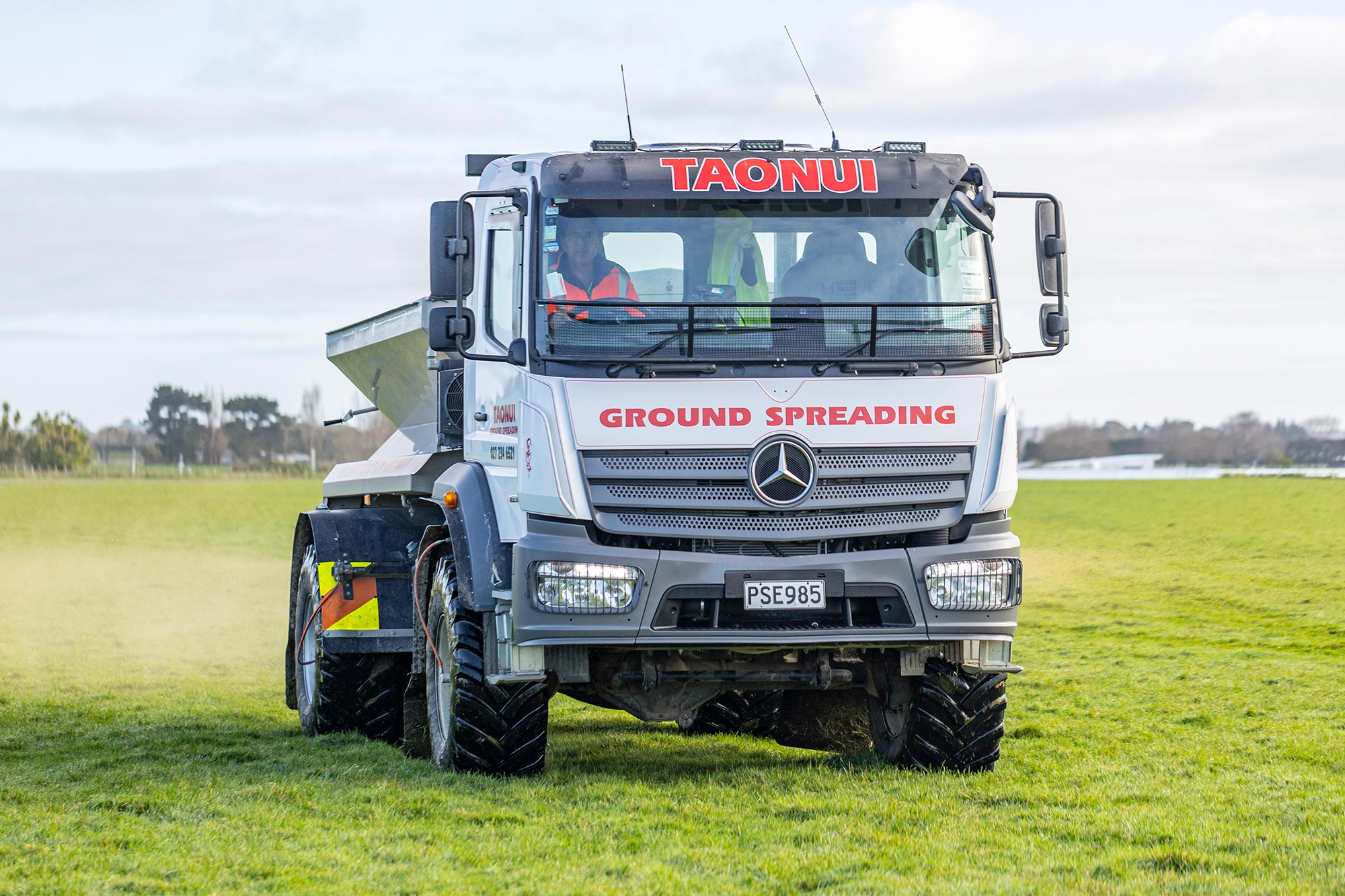 In the relatively short time it's been in operation – around four months – the Atego has already proven its mettle. 
"I clipped a borehole the other day and bounced right out of it!" says Paul. "It's a robust truck for sure; I would have nearly written off my old truck doing that!" 
He anticipates the maintenance costs will be significantly down over the seven years he intends to keep it in work. Plus, he's confident it will have strong re-sale value when he's done with it. 
For now, he's enjoying being out in the field. 
"I've travelled the world as a shearer and also tried my hand as a truck driver, but it was too much like work for me," he chuckles. "On the road, you've got to think about a hundred different things as well as your own driving. I prefer it when it's just me. 
"With shearing, the only person you worry about is yourself – and it's the same when I'm out spreading."  
The reliability and performance of his new Mercedes-Benz Atego means Paul has even less to worry about, allowing him to enjoy getting down to work and doing his bit in helping to keep the Manawatū-Whanganui economy thriving.