Feature Article
Moving mountains
Make the first one a Mercedes! That was Earthworks Taranaki director Rodney Martin's goal when it came to making the first brand-new truck purchase for his hard-working fleet. Opting for a construction spec Arocs 2635K model, complete with a steel bin from the Keith Andrews Built Ready range, he's confident he made the right decision. 
Rodney opted for the Mercedes-Benz K-model Arocs because it is built specifically for construction work; its high ground clearance of 380mm and spring suspension enabling it to navigate uneven worksites with ease and perform robustly under a heavy load. 
"I wanted to know it would handle the tough day-to-day work I need it to do," says Rodney. 
The fact that the 350hp 6x4 workhorse came ready to roll with a 4.9m steel bin on the back was a bonus. 
"Not having to wait for a body is a real plus in this day and age. It meant we could put it straight to work and start getting a return on our investment." 
That investment was always intended to be made into a brand-new Merc – the first new addition to a fleet of four used units and six diggers that had set the business on its feet, but which have now started to take their toll on its bottom line.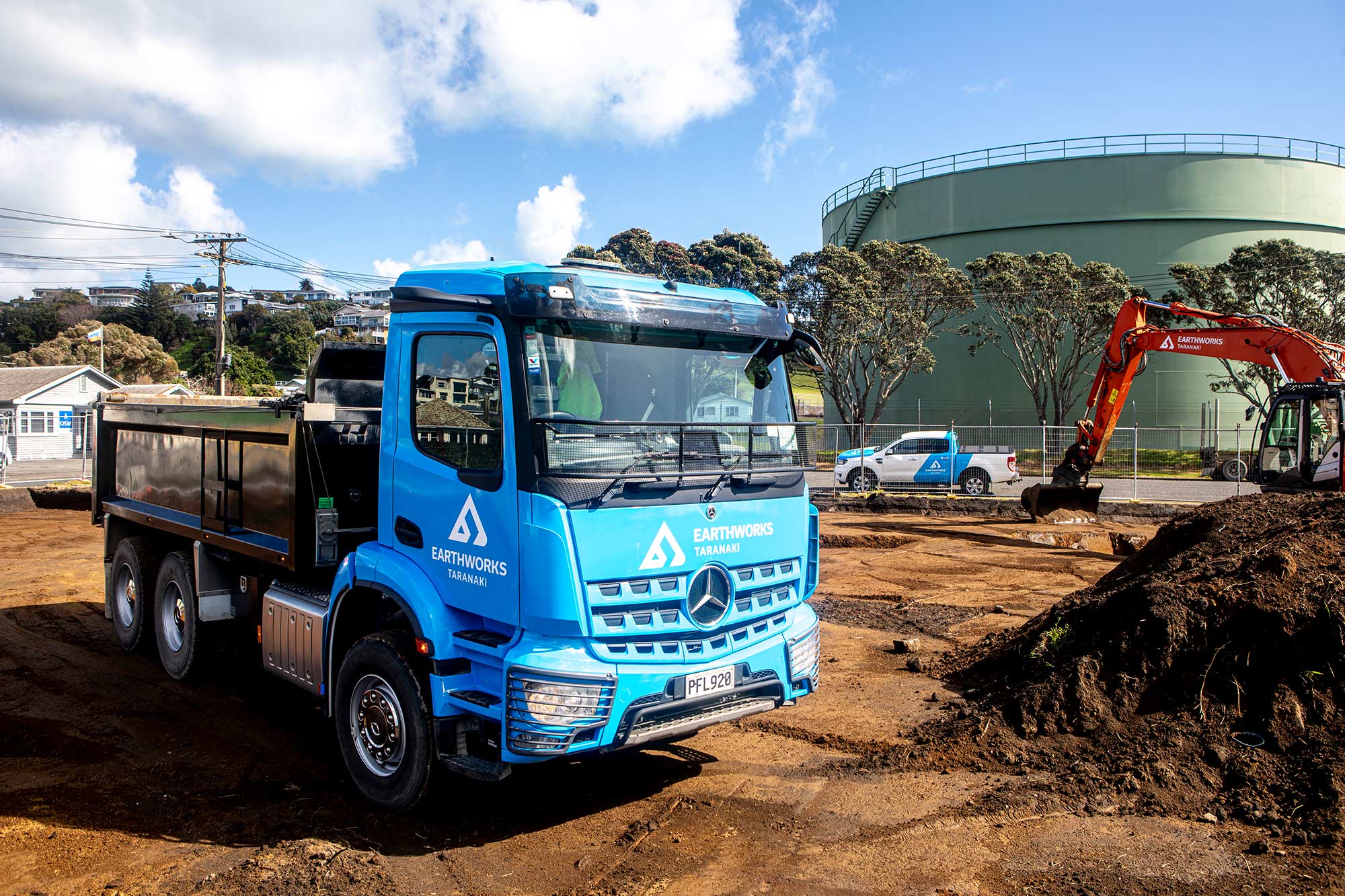 "I'm spending $30,000 a year on keeping some of my older trucks on the road," explains Rodney. "Going forward, buying new is an absolute no-brainer and I want it to be a uniform fleet under the same brand. 
"Mercedes-Benz appealed because of its reputation for high build quality. I want the best of the best and, in my opinion, that is a Merc. It also improves customer perception of the business."  
Rodney says the Arocs "hasn't missed a beat" since he put it to work. 
Perfect for local work 
The Arocs will do around 50,000km a year, working 7am-4pm, using its 7.7L OM936 engine to haul 11.5T payload between New Plymouth and local quarries.  
Rodney praises the PowerShift 3 automated transmission and says it helps drivers get from A to B more efficiently – as well as being excellent on- and off-road. 
"The transmission is so quick, you'd be hard pressed to do much better changing gear manually. It also has an off-road mode that runs the revs higher when required, and we can also put it into manual if we need to, which means we hardly ever run into trouble on bad ground. 
"It's also brilliant to drive around town and has a tight turning circle, so navigating smaller sites is never an issue."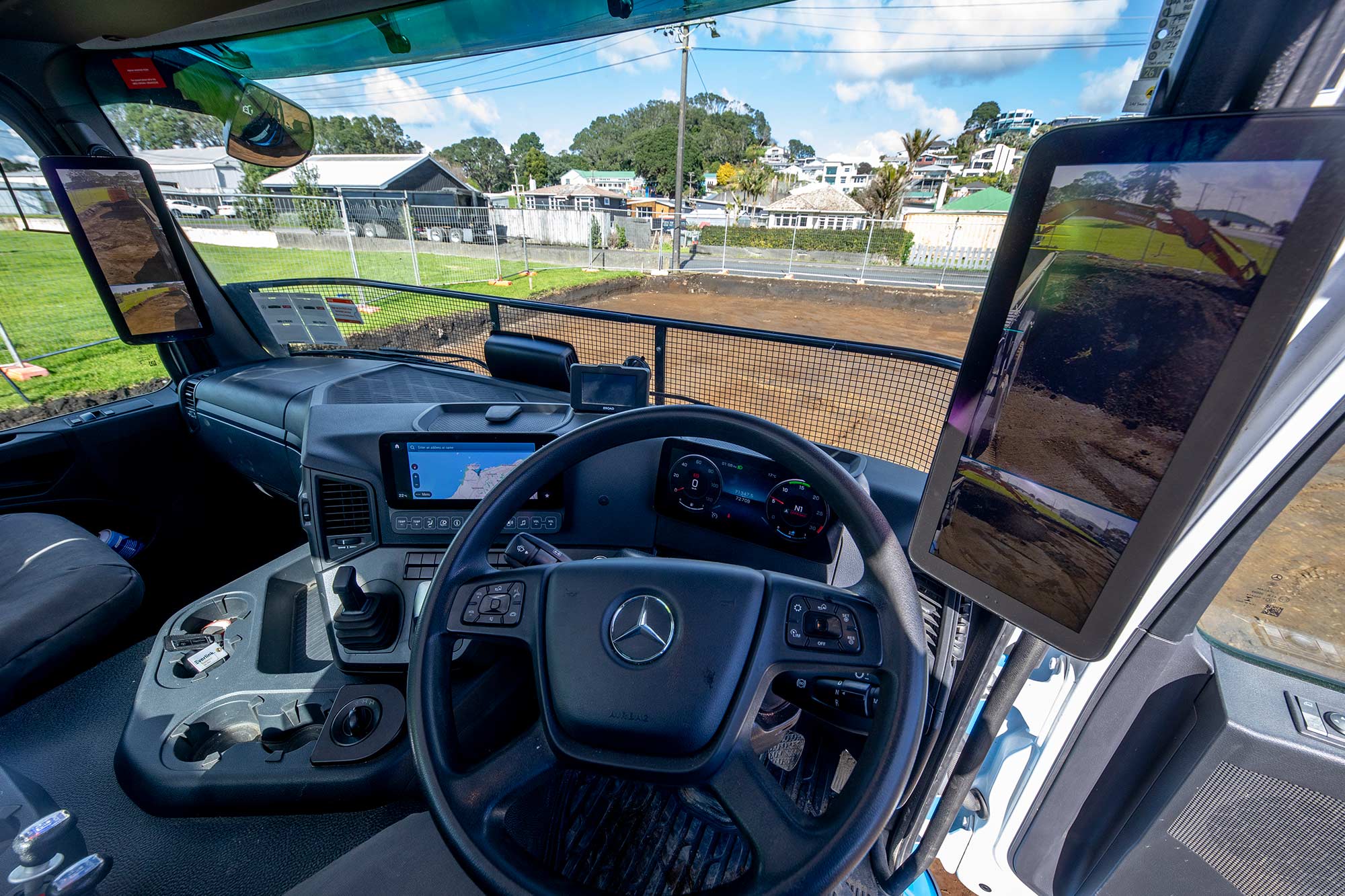 The Arocs has an ergonomic 2.3m-wide ClassicSpace S-cab equipped with a touchscreen multimedia dashboard and integrated Apple CarPlay / Android connectivity for optimum driver comfort. 
Designed with the driver experience front of mind, "it's pretty much like driving a car" says Rodney. 
Mountain man 
The Arocs is a great addition to a business that has gone from strength to strength since Rodney bought it four years ago. In that time, he has tripled turnover through larger contracts for customers as diverse as Mainfreight (construction of its new depot), New Plymouth Council and residential home builders.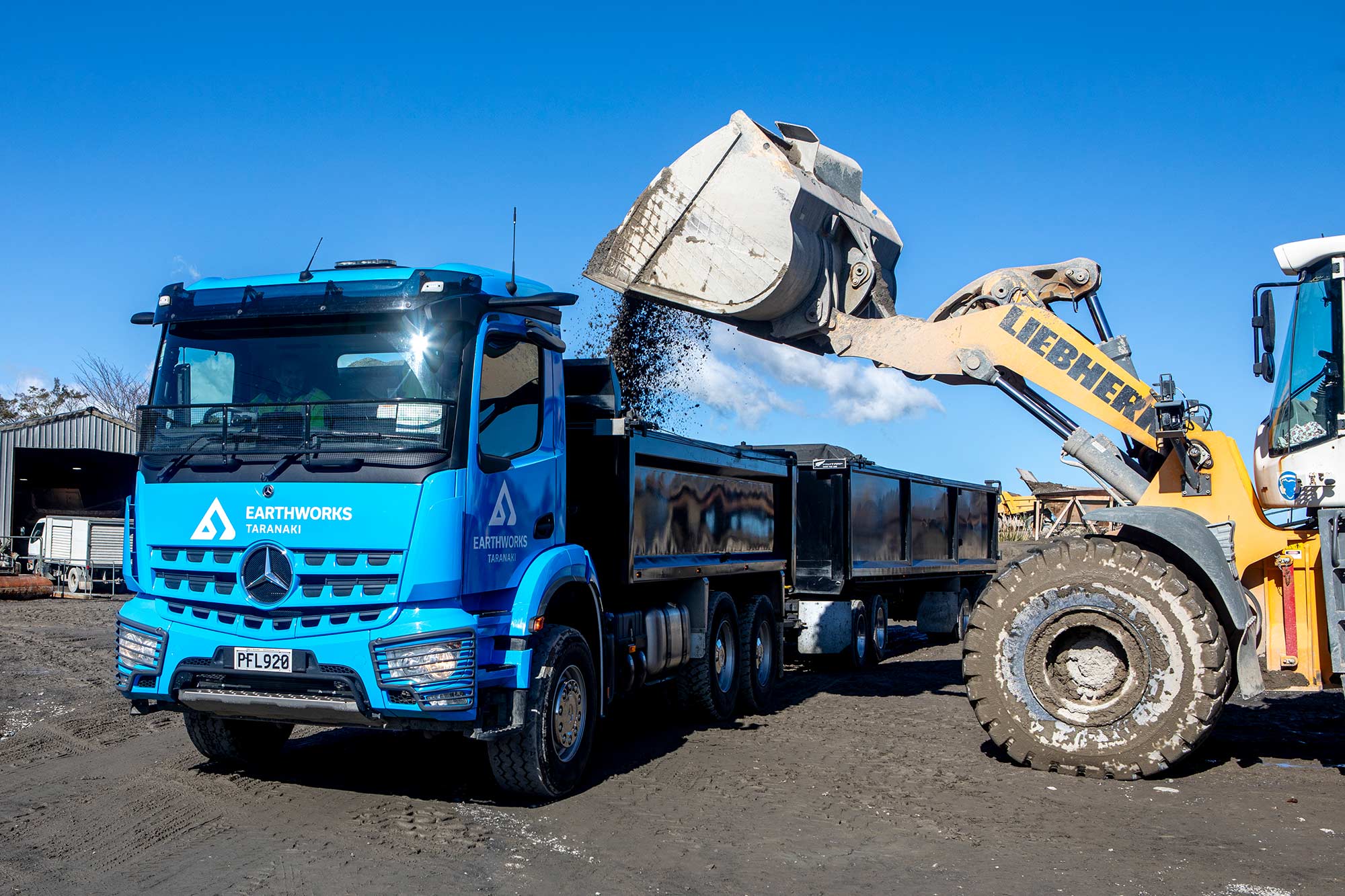 The company logo indicates lofty ambitions. No matter where you are in Taranaki, the mountain (Taranaki Maunga) makes its presence felt. At 2,518 metres (8,261 ft), it is the second highest in the North Island and is a key feature of Earthworks Taranaki's identity. 
"A mate of mine designed the logo for me," says Rodney with a sense of pride. "It's in the shape of the mountain with a silhouette of a digger, which says what we do and where we are."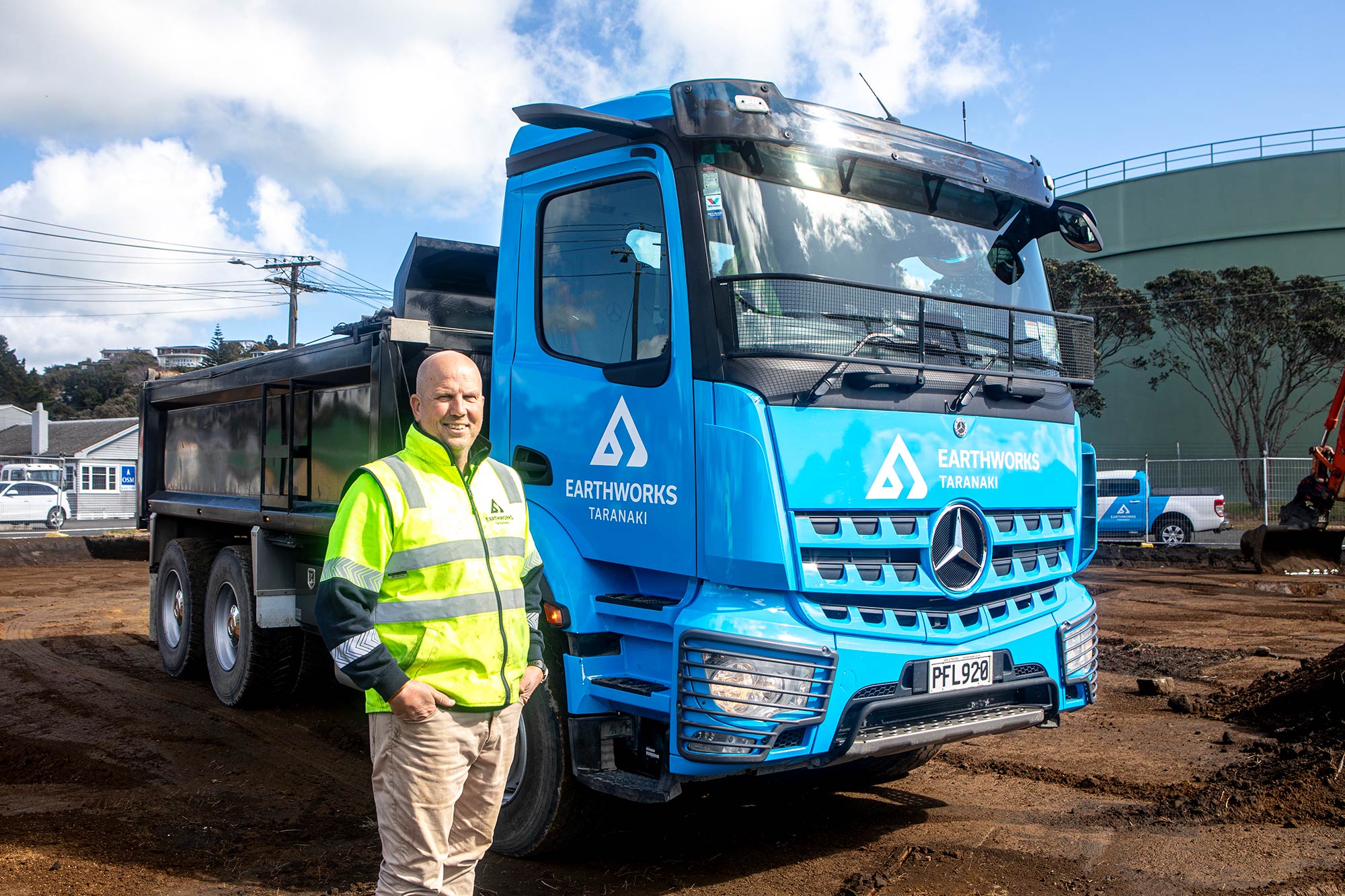 He might not be moving mountains just yet, but with plans to overhaul his used trucks with new Mercedes-Benz product from Keith Andrews, who Rodney says are "easy to work with", he is on track to take Earthworks Taranaki to even greater heights with the support of a premium fleet performing at its peak.