Feature Article
Cascadia delivers low total cost of ownership
Freightliner is the best-selling heavy-duty truck brand in the United States, with nearly 40% of the market. Its new 505-600hp Cascadia range is engineered from the ground up to be a hard-hauler that sticks to its task with maximum efficiency and minimum running costs, combining the best of its US heritage with Daimler expertise in high-performing, value-for-money trucks. 
Delivering low total cost of ownership means spending more time on the road, while spending less money on fuel, less time in the workshop, and less effort worrying about getting the job done safely, on time, and with driver comfort front of mind. On all these bases, Cascadia has you covered. 
To achieve this, Freightliner identified key six areas for maximising profitability in the new Cascadia, all of which underpin its design: safety, fuel efficiency, uptime, quality, drive experience and connectivity.  
In short, Cascadia is the most advanced American truck on the road. 
Setting new safety standards 
Safety plays a critical role in the total cost of ownership for trucking companies. Protecting people – both drivers and other road users – is the priority of an advanced range of active and passive safety technology that comes as standard in Cascadia. 
These include Active Brake Assist, Adaptive Cruise Control, Side Guard Assist and Lane Departure Warning – all part of the Detroit Assurance® 5.0 suite of safety systems. 
By keeping drivers and other road users safe, the occurrence and severity of accidents can be reduced, which in turn reduces the need for lengthy and expensive repairs, and avoids operational costs incurred from being off the road. 
Class-leading fuel economy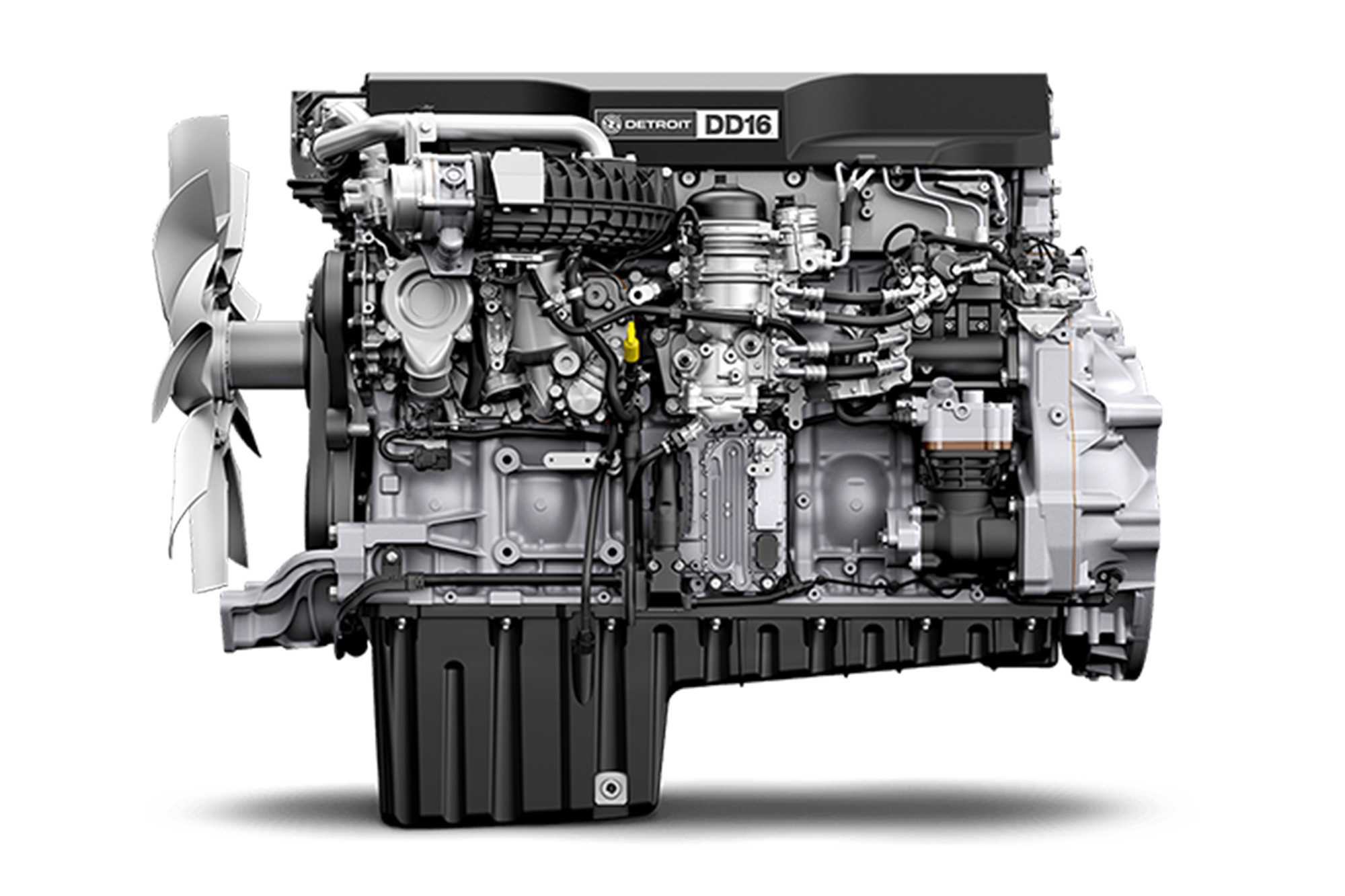 Reducing air resistance to improve fuel efficiency is basic physics. With that in mind, Cascadia's aerodynamic design is as much about delivering low total cost of ownership as it is all-American good looks. Its contoured bonnet slices through the air, reducing drag and, as a result, fuel consumption. 
Under the hood, fuel economy is achieved with no compromise to power delivery thanks to the Integrated Detroit® Powertrain, in which engine, transmission and axles are designed and engineered to work seamlessly together for maximum performance and lower operational cost. 
Whether you opt for the 13-litre 505hp DD13 or 16-litre 600hp DD16, both of these exceptional Detroit engines deliver a wide, flat torque curve up to 2,500Nm and 2,780Nm respectively – and both exceed Euro 6 emission standards.  
Other advanced features include Intelligent Powertrain Management (IMP10) – the next level in predictive technology, alongside the Detroit DT12 transmission – and an innovative Axle Lubrication Management (ALM) system.  
Maximise your uptime 
A strategically scheduled maintenance programme delivered through expert, authorised service partners – such as Keith Andrews for all North Island customers – can help keep fleets in optimal working order, improving longevity and reducing the overall amount of time spent in the workshop. 
Cascadia is backed by Freightliner's 5-year/500,000km Basic Service Plan.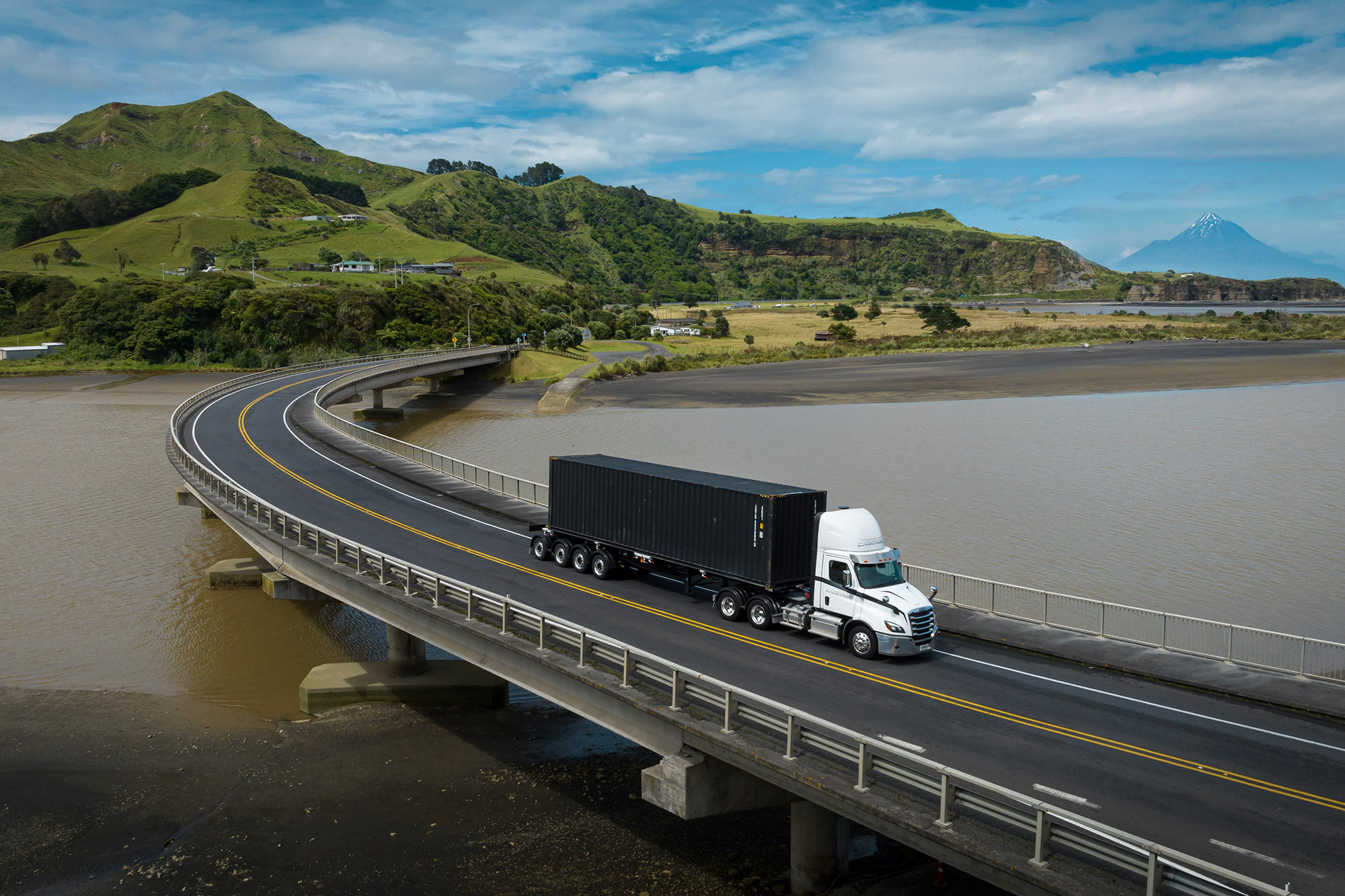 World-class quality 
The quality required for maximum uptime is achieved through exacting design and precision manufacturing, plus millions of kilometres of real world testing in a range of conditions. 
Cascadia has been engineered to the smallest detail to reduce wear and tear on critical parts, extending their active life and reducing the number of service intervals required to keep things running smoothly. 
Improved handling for less driver fatigue 
Drivers play an important role in the real cost of ownership, so Freightliner made driver experience a priority when designing the new Cascadia. 
The ergonomically designed, wraparound dash puts everything within easy reach, while noise abatement technology and three seals around the doors ensure a quiet, peaceful ride.
The steering gear is positioned further forward for less bump and greater precision to reduce the fatigue that comes from constant course corrections and steering inputs.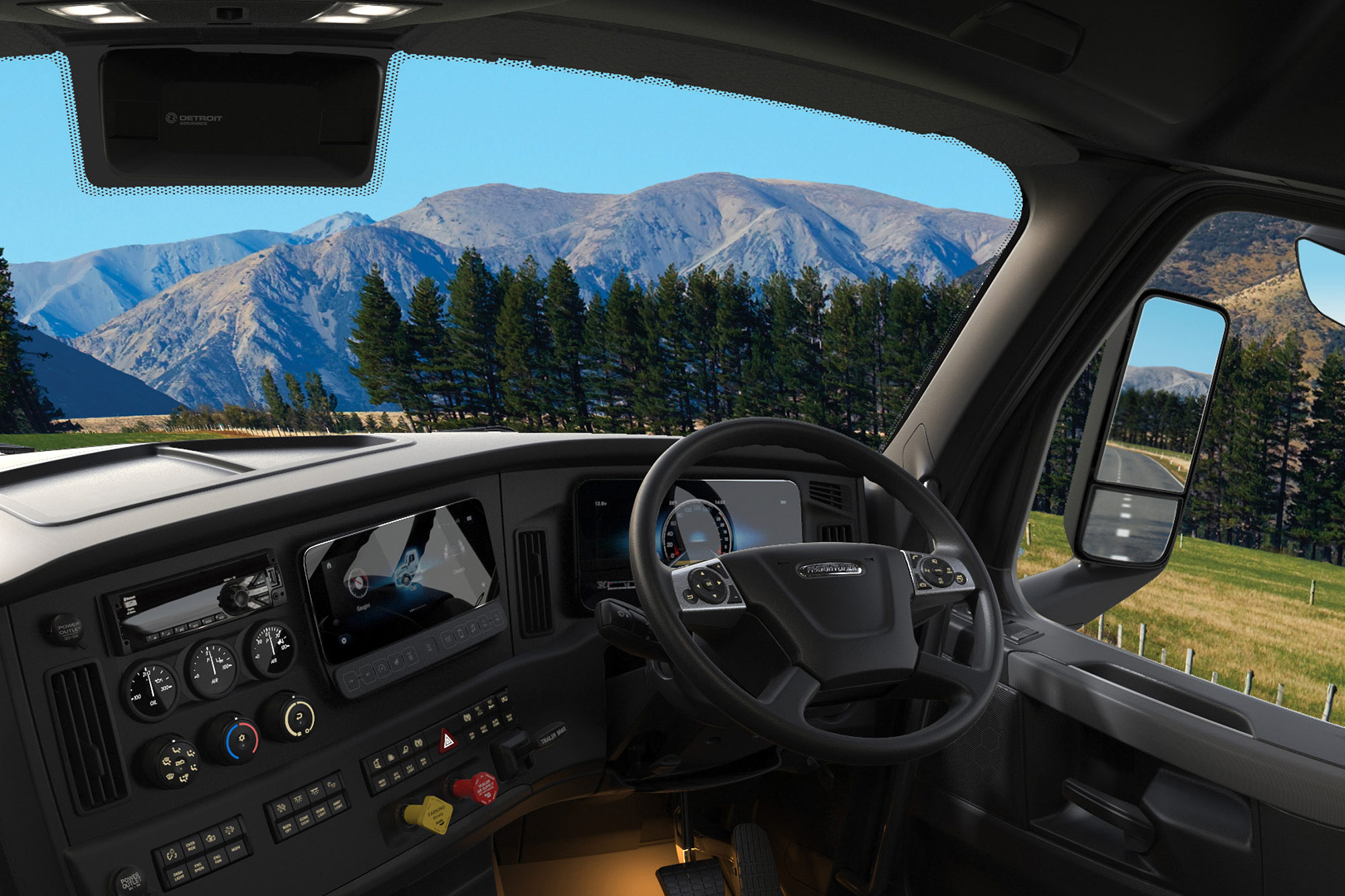 Connectivity 
The Detroit Connect suite of vehicle services provides real-time access to a range of data and analytics about truck and driver performance, including remote diagnostics, analytics to maximise fuel economy, insights to help create safer drivers and remote updates to keep drivers moving – a whole range of support towards maintaining that low total cost of ownership. 
What Cascadia owners say: 
Paul Stone, Blue Ice Logistics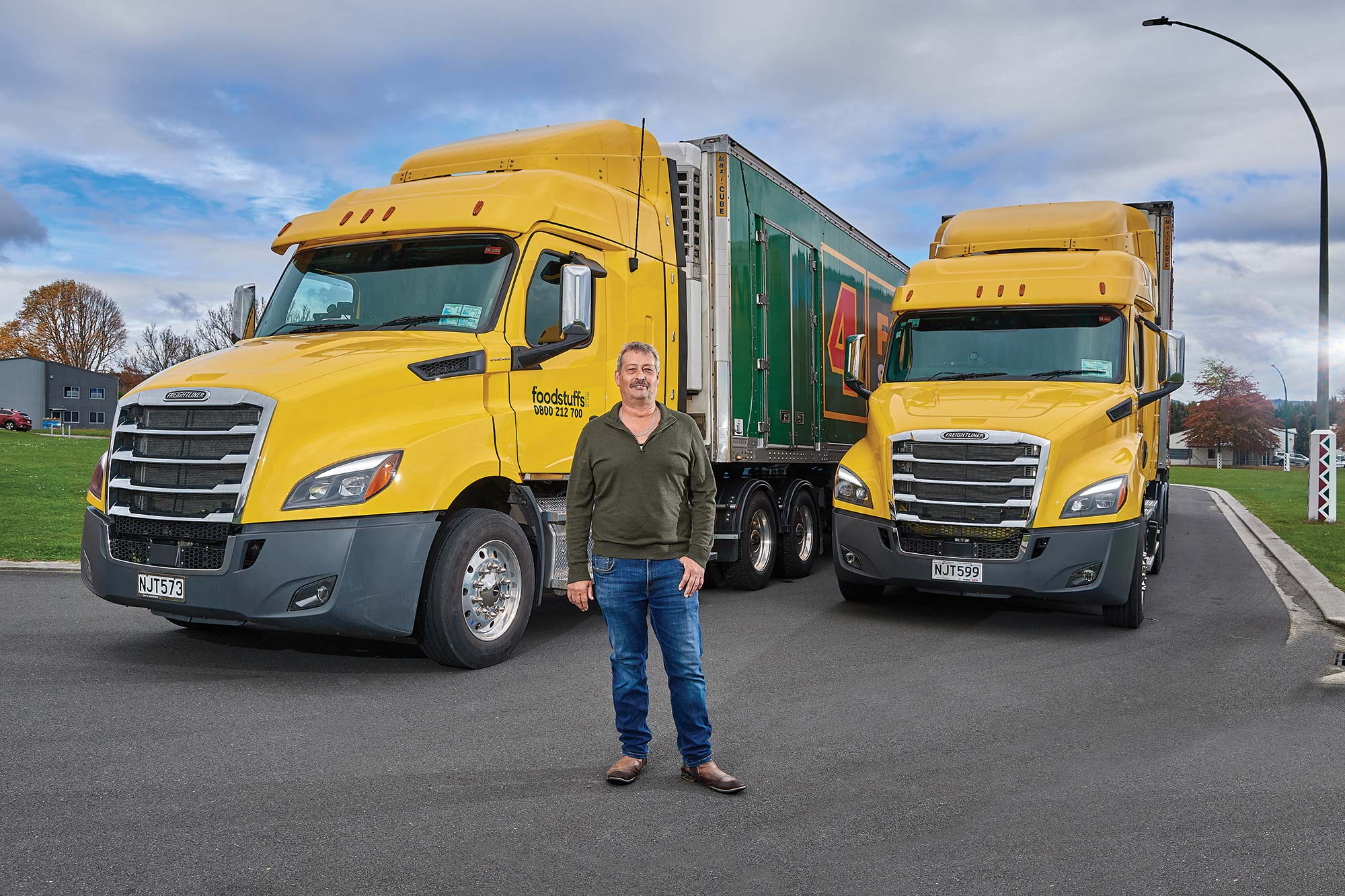 "The service contract made the difference. I don't want my trucks in the workshop all the time, because it's dead money." 
"Our other trucks are doing 2.2km/L to 2.4km/L. We expect better with Cascadia's aerodynamics and technology settings such as 'Optimised Idle'. I've noticed AdBlue consumption is pretty low, too, which should mean so is the fuel burn," said Paul, who runs two Cascadia 116 units 15 hours a day, six days a week, 200,000km a year shifting fresh, chilled and frozen produce. 
Sam Sandhu, S&B Haulage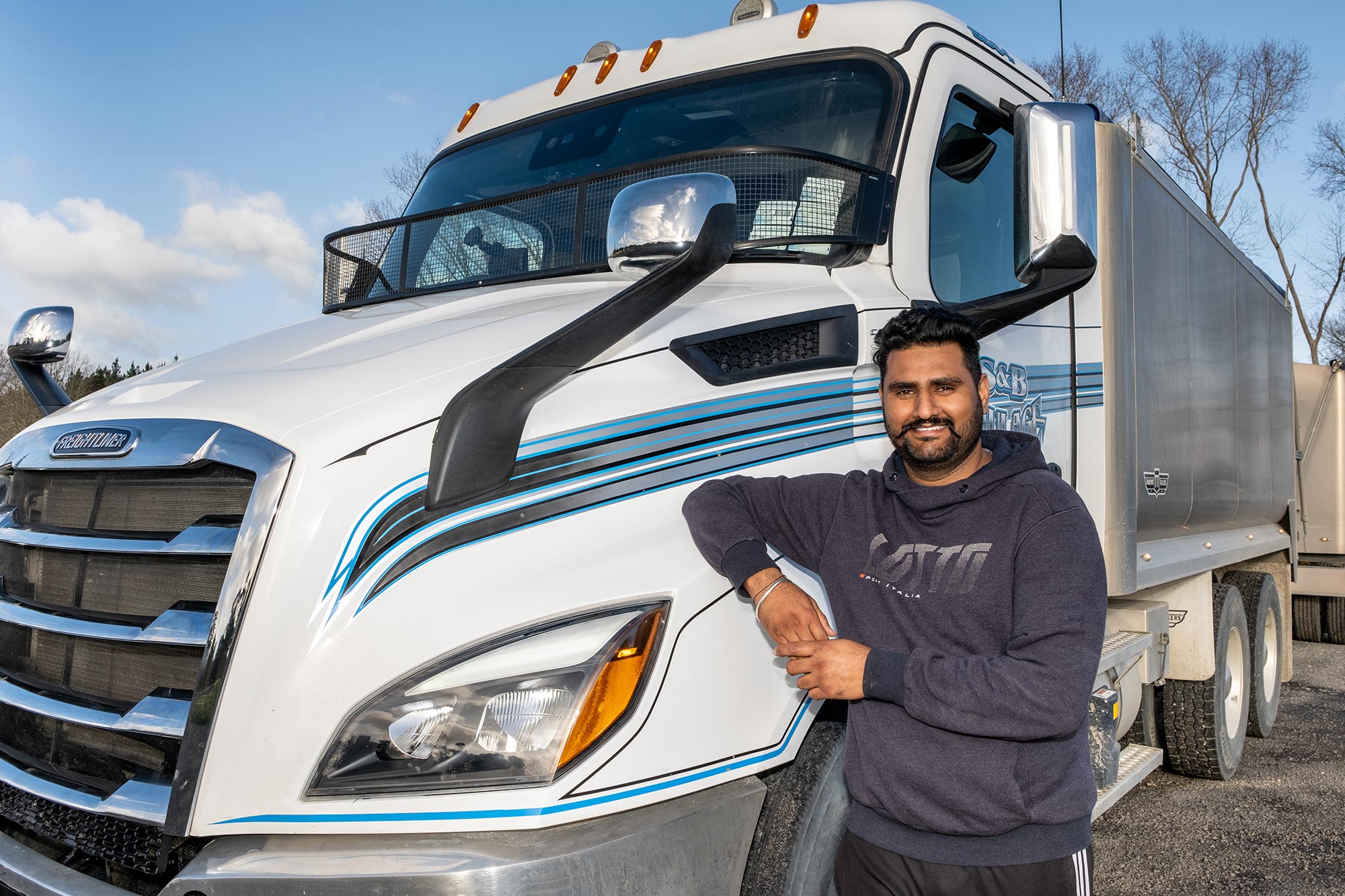 "It's really good on AdBlue and cheaper to run compared to other trucks, and it costs less to maintain. We can go up to 45,000km between services; other brands need to be serviced every 15,000km. 
"Because of its European styling, it's more comfortable than the other American brands. On the flip side, the engine has the grunt you'd expect from a Detroit engine." 
Hamish Cavanagh, HW Cavanagh Aggregates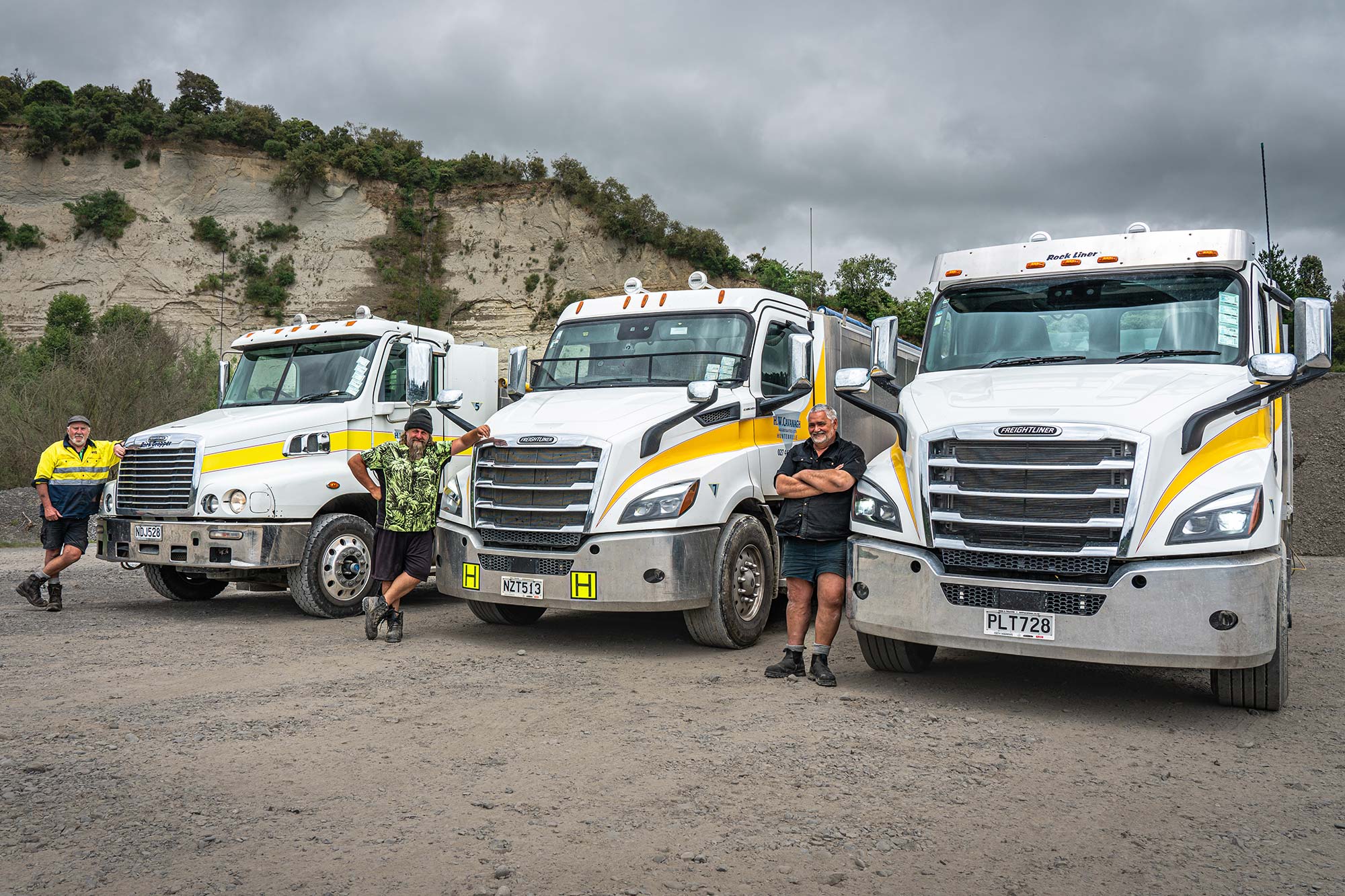 "It's got the luxuries of a European truck but it's still American under the hood. 
"I prefer a bonneted truck, because it offers good visibility and easy access, which is important, because we spend a lot of time getting in and out." 
Lower your costs with Cascadia! 
Available as a 505hp 116 or 600hp 126, the Cascadia is perfect as a metro or linehaul freight vehicle and in heavy-duty tipper applications. 
"It really is a world-class truck," says James Hudson-Owen, Brand Manager – Mercedes-Benz and Freightliner at Keith Andrews. "In fact, Cascadia is the most advanced American truck currently available and every detail is focused on low cost of ownership.  
"Metro and linehaul freight specialists in fast-moving consumer goods and chilled goods will find Cascadia a great addition to their fleet, as will tipper operators. 
"Freightliner has a strong reputation in New Zealand and recognition for its new Cascadia range is growing among drivers and operators, who want plenty of power and capability alongside low running costs and that classic bonneted design in the great tradition of American trucking.  
Call Keith Andrews today to find out more about Cascadia!