Feature Article
Canter a cut above
New Zealand's favourite light truck, FUSO Canter, is a proven performer in landscaping businesses, valued for its payload capacity, driveability and overall performance. 
The versatile range includes a variety of 4x2 cab chassis models that can be configured with toolboxes, flat decks and ramps for ride-on mowers and other landscaping gear, as well as 4x4 models and crew cab options for getting up to seven team members to bigger jobs in one ride. 
Undoubtedly the most popular option among landscapers is the factory-built tipper, ready to go with a three cubic metre body to carry more than a ute and unload more efficiently onsite.  
Wellington's notoriously tight, winding driveways pose a tough challenge for site access – but the capital's largest landscaping business, Aspen Landscapes, has found a great solution in the 6T FUSO Canter, adding a mix of tippers and flat decks to its fleet. 
"These Canters have such compact bodies — even the wing mirrors are tightly tucked in, which is a small detail but really makes a difference," says business owner Stuart Baines.  
 "We were incurring increasing costs from servicing some of our older utes – that, combined with the cost of hiring trucks and paying for deliveries, just didn't stack up any more, so I started looking at trucks."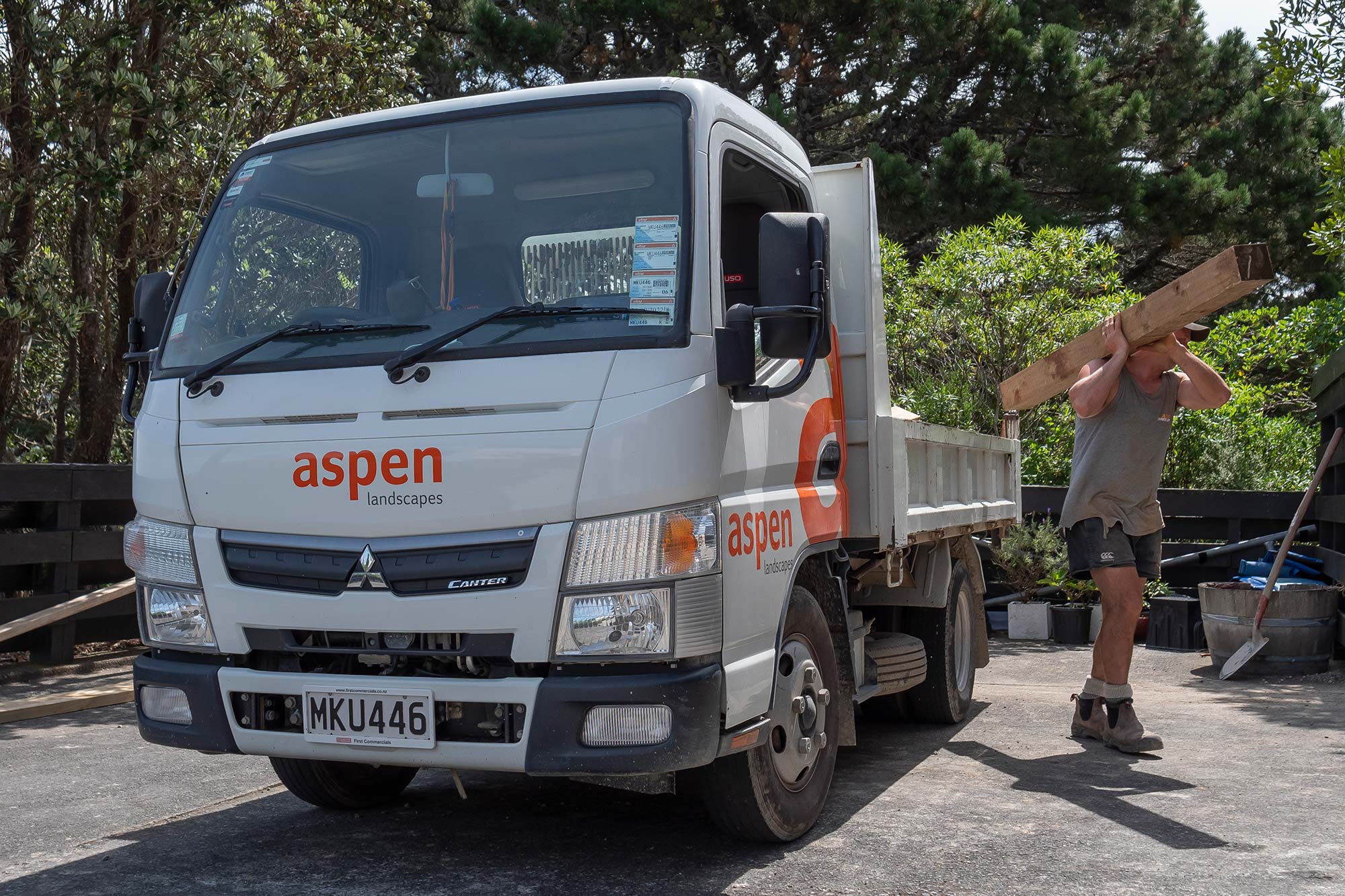 Application options 
The tippers haul soil, gravel, pavers and other materials, sometimes pulling a digger. The flat deck is equipped with a ladder rack and drop sides. It carts soft landscaping supplies such as plants, fertiliser and 20m x 3.6m rolls of synthetic grass. 
"Those rolls are heavy! It takes two people to lift them, so having drop sides and a low deck height makes the job of loading and unloading them that much easier. 
"The team love the mobility and user-friendliness. For me, it's nice knowing the trucks can be driven on a Class 1 licence. The affordability, fuel economy, servicing, professional look, and robustness of the units have really hit the nail on the head for what our business needs." 
Convinced by recommendations and their own experiences, FUSO Canter was the only truck on the radar of Scape Goats owners Reuben and Kylie Herrick. 
"There was never an alternative for us. All the good feedback we've heard about the truck made it the clear choice," says Reuben.  
Scape Goats' 6T Canter Tipper followed the purchase of a 1.7T digger. While the ability to transport the digger without the need for hire trucks was one consideration, spiralling delivery costs for materials and an inability to carry large loads to site persuaded them to invest in the Canter. 
"It was one of the easiest purchases we've made," says Kylie. "We just can't imagine the business without it now." 
Fit for purpose 
Mexted Sports Turf is a specialist in the maintenance of sport and recreation grounds. Its new Canter is a larger 7.5T model complete with advanced safety features, including Active Emergency Braking, Lane Departure Warning and Electronic Stability Control. Its job is to transport a 2.2T rotary mower plus various hand tools and supplies such as weedeaters and diesel, so a flat deck body with beaver tail ramp and lockable tool boxes was built.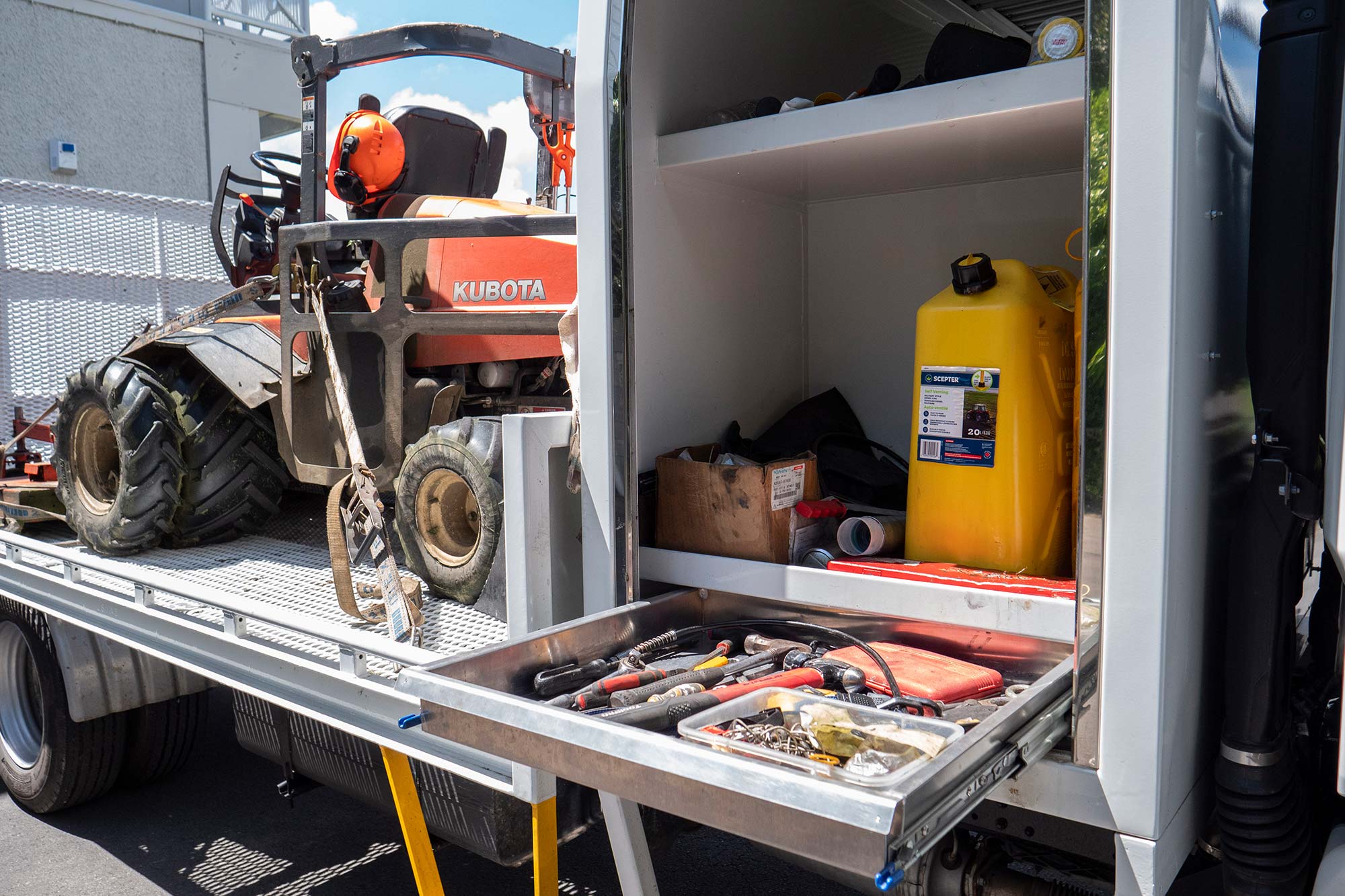 "It's really good to drive, it's comfortable, easy to get around tight spaces and the DUONIC automated transmission is really smooth," says driver Mitch Fowl.  
"I have to drive on grass and it goes great, even in the wet. It doesn't slip, it just breezes along. I highly recommend Canter for anybody in this line of work." 
Your local FUSO dealer can provide advice on finding the right truck for your business and help with any body build requirements. The ready-to-go Canter Tipper range starts from $44,900 +GST +ORC. Go to fuso.co.nz for more information and contact details.