Feature Article
The bottom line
Rhodes for Roads embraces the unusual. It can count a truck with a swapper body that allows it to operate as a tractor unit, a tipper or a water truck among its number, and now, thanks to Keith Andrews, it's running the only bottom dumper truck and trailer in the area. 
The civil construction specialist has been a fixture around Northland since it was founded in 1985. When founder and director Warwick Rhodes was looking for a new tip unit to spread aggregate on roads around Northland, he knew he'd have to think outside the box. The business was being asked to carry out jobs on terrain tricky for conventional tippers to handle, so Warwick needed a solution. 
He wanted a truck that would spread downhill and uphill, inside corners and on steeper terrain than ever before – and, of course, it had to do it safely. 
"With a bottom dumper, you don't need to worry about power lines, telephone lines, trees and, in some cases, tunnels and rail overbridges, as you're not extending upwards," explains Warwick. "The vehicle is also a lot more stable on uneven ground."  
Embracing innovation 
Until recently, operators could only run a bottom dumper on trailers with a tipper body, or trucks with a fifth wheel added – but now, thanks to an innovative new design from Underbelly, and the team at Keith Andrews Whangārei, Warwick can call on a custom-made 8x4 Mercedes-Benz Arocs. 
The 530hp 3252K Merc joins a fleet of 23 FUSO trucks. Warwick opted for FUSO's Daimler stablemate for this application because "it really ticked all the boxes and Keith Andrews had one ready to go".  
The steel body from NZ-based Underbelly has a full-width taper hopper, allowing for full spread of the load, achieved by removing a section of the truck chassis. 
Warwick says the strength of the Acros chassis made it an ideal option for this kind of conversion. 
"We have bottom dumper trailers, but we really wanted a dedicated bottom dumper truck and trailer combo. We decided to get one now because of the growth of roading around the area – we know we can spread every day if we have the right gear and we wanted to take advantage of that."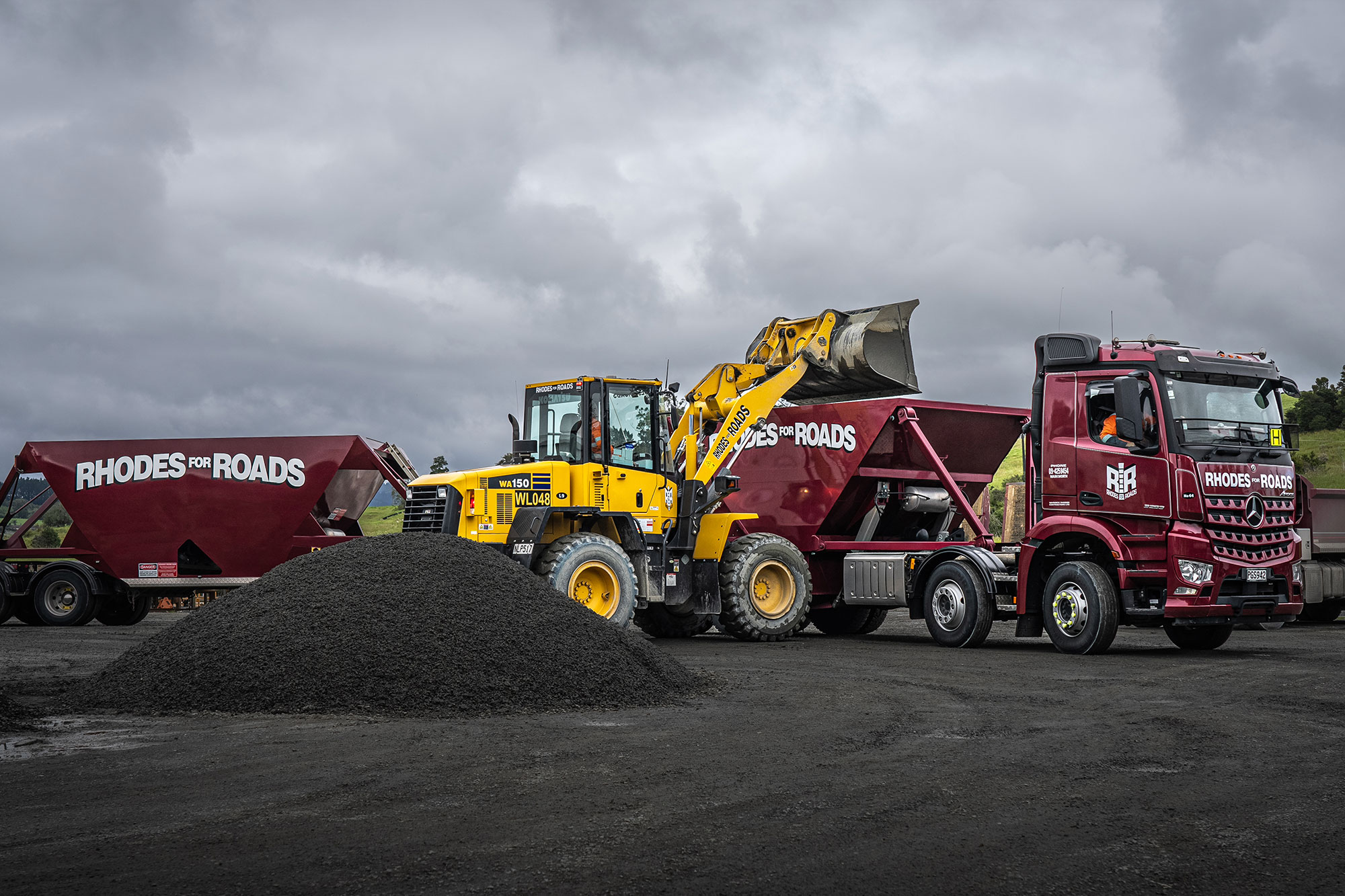 One of a kind 
In combination with an existing steel bottom dumper in tow, the Merc runs on a 51T permit – although whether it's carrying a max payload of 32T depends on that day's route. Warwick reckons it's the only truck and trailer unit in an area stretching from Whangārei to Auckland, so it's natural that he's been getting calls about it. 
"We have had some calls for specialist jobs. It's every grader operators' choice to have  bottom dumpers to work with!" 
But it's not only about opening doors to new business, says Warwick. 
 "The new unit allows us to get on with our work a lot more efficiently and safely, for everyone involved – including the public, other road users and construction staff."  
The Merc will do around 100,000km per year on local authority jobs like seal extensions and road upgrades. It also handles some forestry road maintenance and, thanks to its cross-locks, durable steel suspension and planetary axle, can tackle rougher terrain well. 
Equipped with a PowerShift 3 automated transmission, the 12.8L Euro VI, Detroit-Diesel inspired OM471-powered Arocs delivers the perfect amount of power and torque when and where the drivers need it. It's the same transmission that has impressed operators of the FUSO Shogun 510, and Warwick says feedback has been excellent.  
Power and torque 
"The transmission works well, even coming over the Bombays and Brynderwyns. Our drivers have been very pleased with its performance. The Merc also has an excellent engine brake, which is  something we look for during the purchase process, as a good engine brake reduces maintenance costs and is good for safety." 
Rhodes for Roads' association with Keith Andrews goes back 30 years and has played an important role in helping Warwick establish the company. 
"Keith went out of his way to work out things that would work for the business, he never seemed overly concerned about what would work out for him. We needed that, especially early on." 
The strength of the partnership is evident in the company's fleet of 23 FUSOs, some of which are 20 years old, with several new Shogun 460s and 510s in the mix. 
Warwick says he's maintained his strong relationship with the business – even after Keith's "very sad" passing – because the high level of service has never dropped.  
"The sales team have been great to me over the years and went the extra mile again this time, especially salesperson Daryl Norrish and dealer principal Jason Chambers.  
"I've known Jason since he was an apprentice and it's good to see the spirit of the company remain the same as it has grown."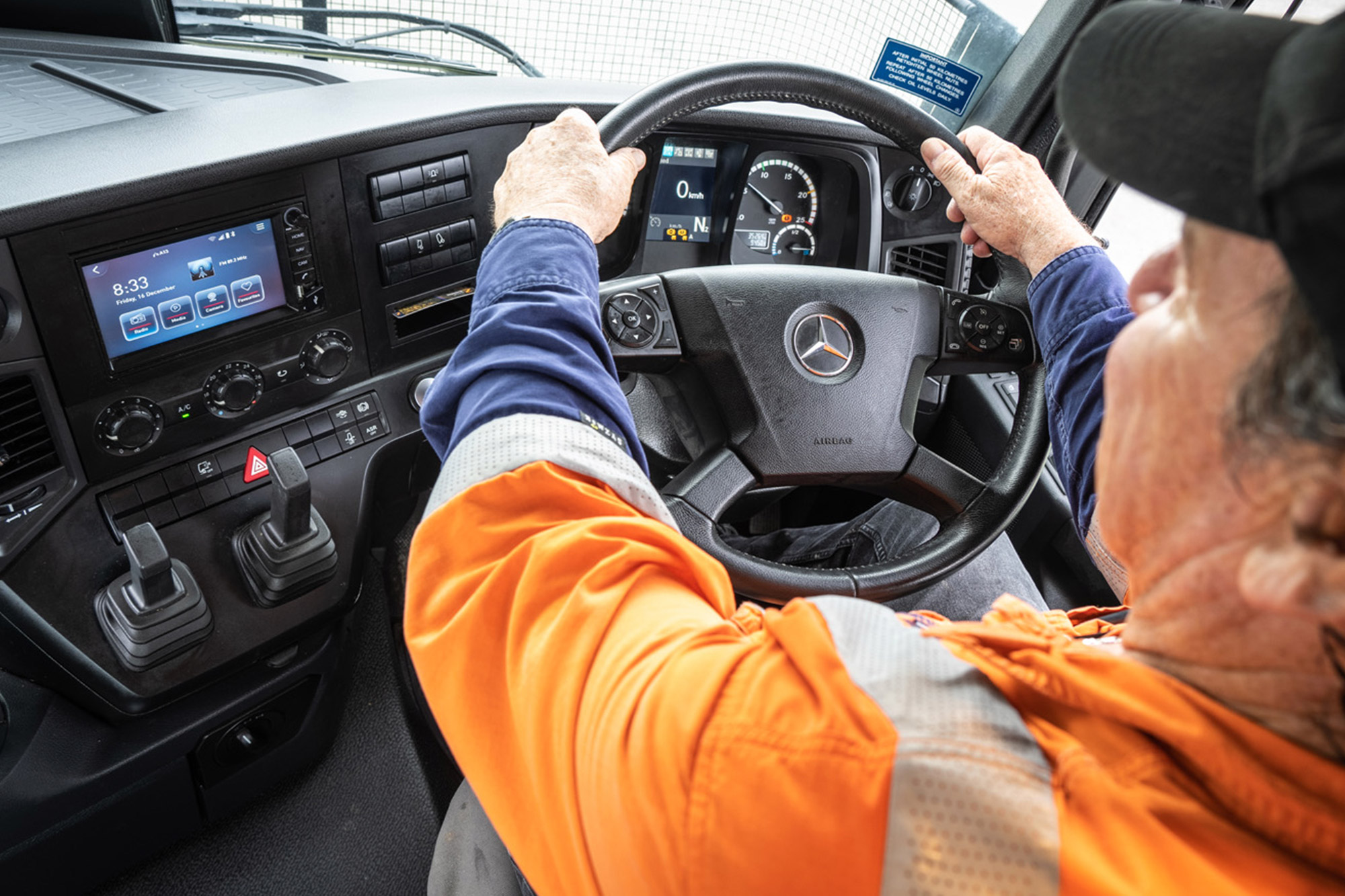 Trust in Daimler 
Something else that has remained steadfast over the years is Warwick's reliance on FUSO trucks – and he's only too happy to place his trust in Mercedes-Benz; especially considering both brands, along with Freightliner, share the same Daimler pedigree all under one roof at Keith Andrews Whangārei. 
"It's good to know there's a shared level of quality and technology through Daimler and the team at Keith Andrews have always done right by us. They're our go-to team." 
Contact your nearest Keith Andrews dealer to discuss Mercedes-Benz large trucks for sale, and options.