Feature Article
Bigger, grippier, more productive
The prime 6x6 Mercedes-Benz Arocs covers more ground and with heavier loads than most operators might be used to. 
This premium beast eats hill country for breakfast and soft flats for dessert. It holds firm where others falter and, where brunt and brawn meet their match, technology and intelligence prevail… but don't just take our word for it! 
Spreading Northland owner Jason Williamson says "it's got higher productivity, a bigger payload and more horsepower" than the 4x4 models in his fleet, which is exactly why he bought it. 
With a three-axle automat trailer in tow and fully loaded at just shy of 39T, Jason says: "It's perfect for the bigger jobs and loading from a stockpile. Offroad, it can take 10-15T, so you can get the jobs done a lot quicker!" 
Standing taller than the 4x4 units in Jason's fleet (including three Mercs), the 6x6 Arocs is still rock-steady climbing, descending and sidling.
"It's an extra wheel on the ground and it's quite a statement in the paddock! It can do nearly twice as much as a 4x4… and you don't feel as many bumps. Having power steering, it's light and pretty quick to turn."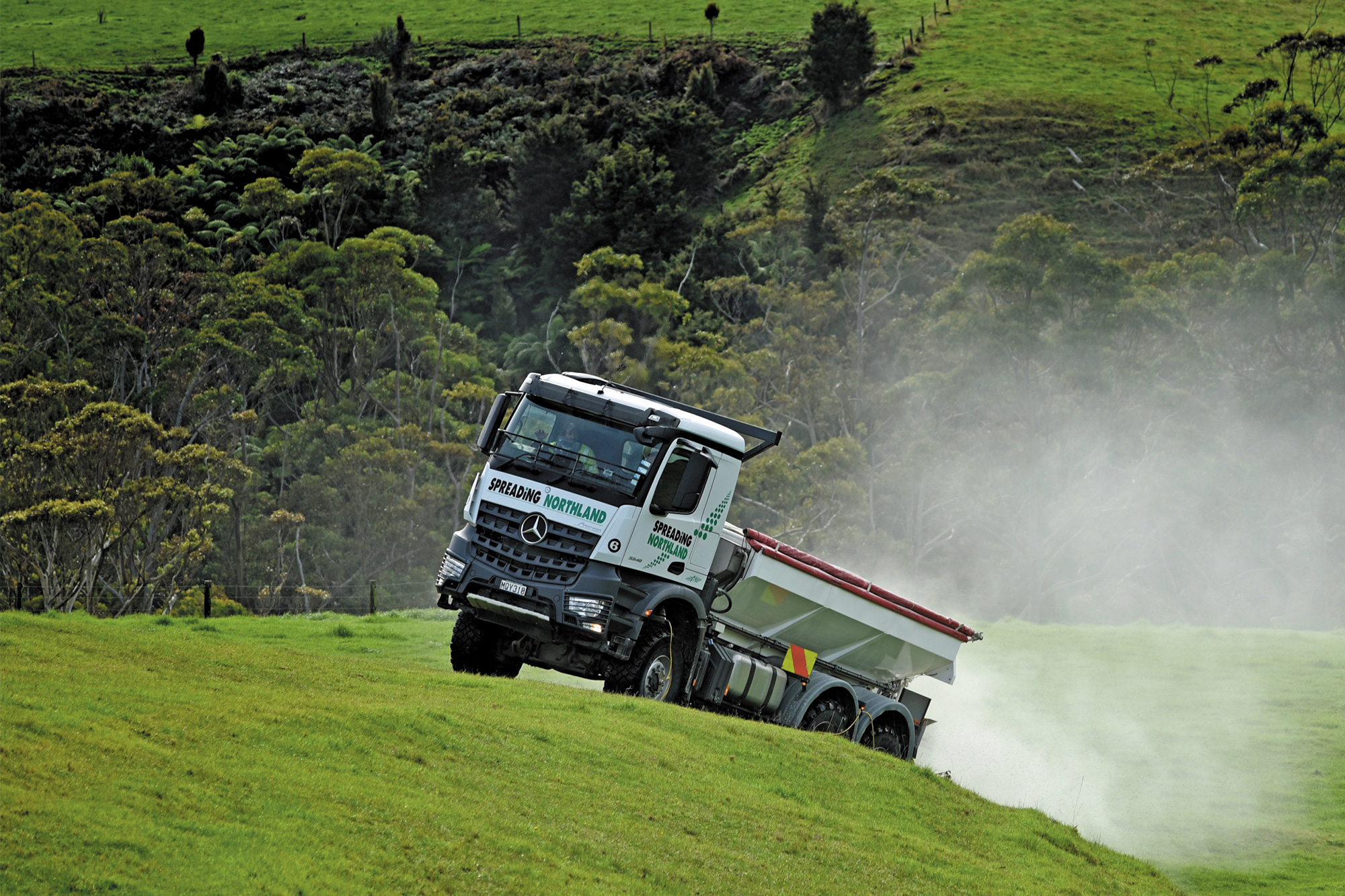 Brains and brawn 
The muscle comes in the form of Mercedes-Benz' robust, high-torque and highly efficient six-cylinder in-line OM470 or OM471 engine. You choose the spec to match the job. Jason opted for 476hp with 2300Nm peak torque, which he says is plenty of beef for the pasture. Those who need more can top out at 625hp. 
His choice of a double H 16-spd manual with pneumatic shifting assistance is also a great option for ground spreading applications, with a broad torque range that enables gears to be held for longer in off-road terrain, thereby taking some of the load off the clutch and transmission.  
Size matters when it comes to the big jobs but the Arocs has smarts in abundance, too. Intelligent design is a hallmark of Mercedes-Benz trucks. So what make Arocs the thinking groundspreader's truck of choice?  
Apart from their high ground clearance, the robust planetary axles are constructed from cast steel for high load capacity. Optimised approach and departure angles improve ground clearance, while diesel tanks with a smaller cross-section are employed for a better rampover angle.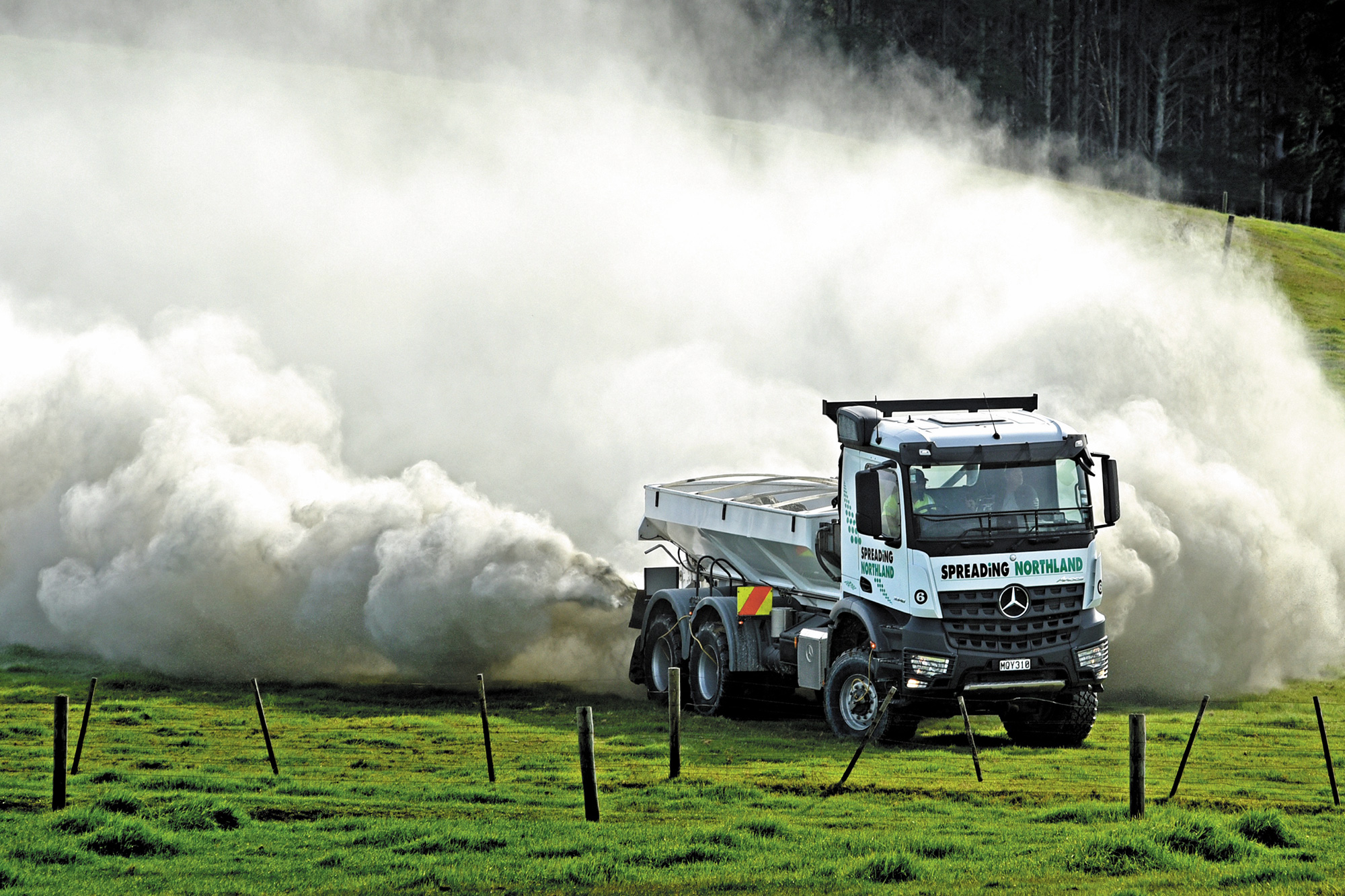 Little and large 
For all the talk of the 6x6 beast unit, which clearly has its place in the right business, the Arocs also has the more familiar 4x4 option to ensure operators have all bases covered. 
Where the 6x6 comes in 3600-5100mm wheelbase lengths, its baby brother starts at 3600mm and stops short at 4500mm. Both come from good stock and both have their place. As Jason says: 
"I'd like to get another 6x6 and probably will in the future, but in this business you need a mixed fleet of trucks." 
Mercedes-Benz Arocs has you covered from all angles and, as the sole authorised Mercedes-Benz dealer for the North Island, Keith Andrews is your first port of call to get one working for you. Get in touch with one of our experienced team to discuss which configuration is right for you! 
To speak to one of our Mercedes-Benz experts, find your local Keith Andrews dealer here: https://www.keithandrews.co.nz/mercedes-benz/contact 
Featured in Groundspread Magazine