Feature Article
Channelling the cascade
To turn a cascade of work into a manageable stream, Hamish Cavanagh turned to an American truck brand he knew and trusted to handle the load – Freightliner. 
In the space of three months, Hamish Cavanagh quadrupled the size of his aggregates fleet by bringing on board two new 500hp Freightliner Cascadias and a second-hand Century Class. 
The chain of events that preceded the July to September trolley dash began in 2019, when Hamish bought a plot of land just off Vinegar Hill Road in Hunterville, a small community on SH1 halfway between Taupō and Wellington.  
"We knew there were metal consent rights on the property, so we'd be able to open it back up as an aggregate quarry," says Hamish. 
His company, HW Cavanagh Aggregates, now has two sites in Vinegar Hill – and their story is anything but sour. Business has boomed thanks to the demand for new forestry roads and Hamish was ready and waiting to take advantage of it. 
"The demand for gravel is ridiculous. The phone never stops ringing!" 
Prior to his latest three additions, his aggregates fleet consisted of a single Freightliner Century Class. 
Next came another – second-hand – Century, followed by a new, fully built Cascadia 116 truck and trailer unit from Keith Andrews' Built Ready range, and a new 116 cab chassis, which, with some good luck and old-fashioned elbow grease, was on the road in six weeks.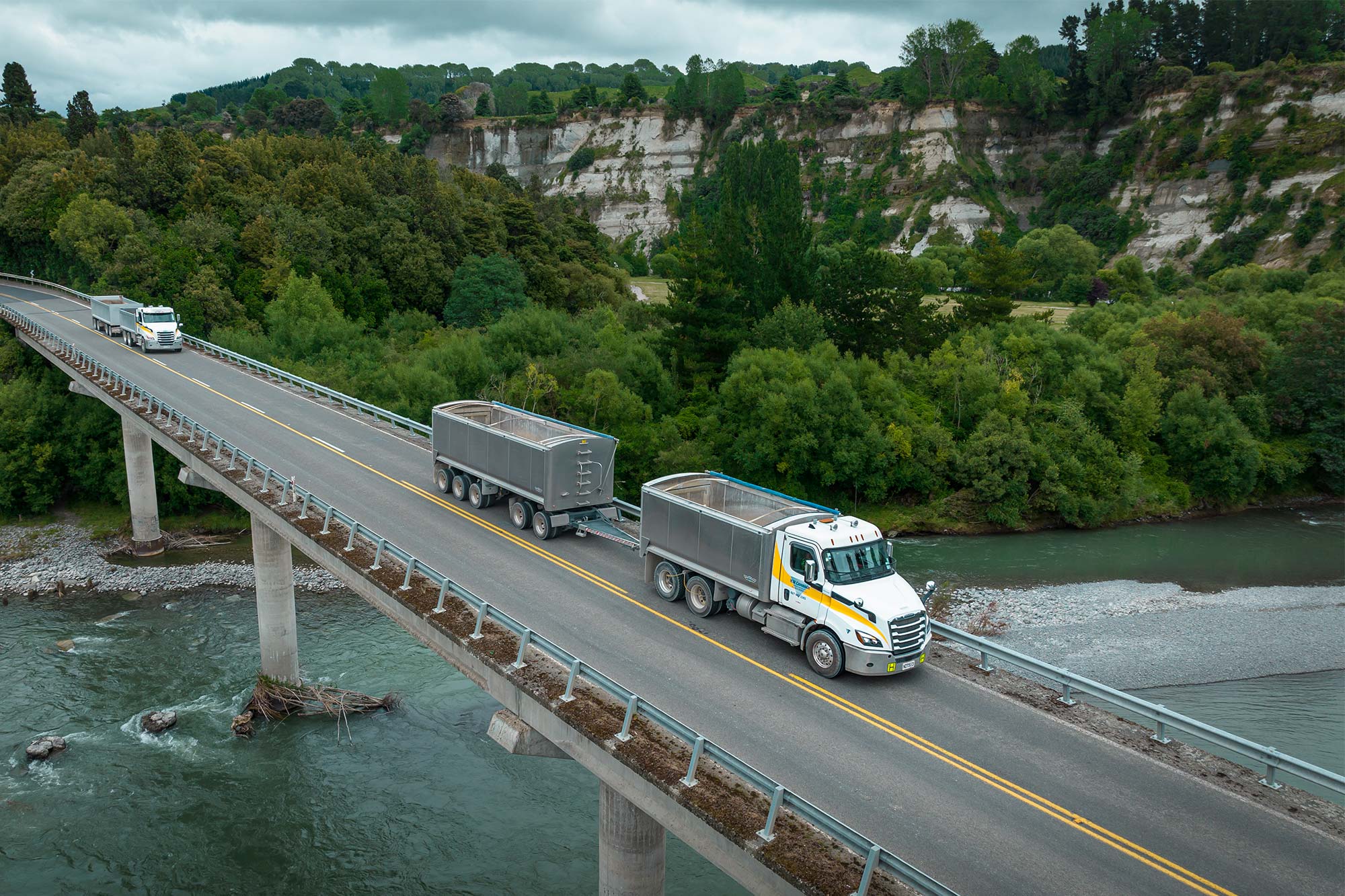 "I found a body that matched the chassis perfectly, with a four-axle steel trailer. Myself and a recently retired engineer, Don Hatful, in town put it together in our workshop and it fitted like a glove. All we had to do was sandblast the bins and it looked brand new!" 
That unit is currently running a 29T load, but Hamish plans to apply for an H permit to bring it up to 32T; closer to his other Cascadia, which hauls 34T with a five-axle trailer in tow. 
Hamish's association with Freightliner – and the Daimler brand as a whole – stretches back to his days as an owner-driver. 
"I've always liked Freightliner. I've driven a few of them on livestock. But I also know the Daimler range well. I drove Mitsubishis when I was starting out and I used to own a Mitsi 430 with a 23m trailer to cart livestock. We've currently got a FUSO Fighter and a Mercedes-Benz Actros, which work across the livestock side of the business." 
Hamish likes the Cascadia because of its low tare weight, which he says adds up to an extra two loads per week versus other brands. He also appreciates the mix of US muscle and European finesse.  
"It's got the luxuries of a European truck but it's still American under the hood. 
"I prefer a bonneted truck, because it offers good visibility and easy access, which is important, because we spend a lot of time getting in and out." 
Hamish says wanted to go with "a big American brand" because it helps him recruit drivers – he's even had to turn down job enquiries. 
His drivers don't do huge kilometres in a day – which Hamish says they like – but that doesn't mean the routes are easy.  
"We do 50km-60km round trips about six times a day, which works out to around 70,000km a year. It isn't a lot, but it takes time due to the condition of the roads. They're often long, slow drags – especially up and down the Turakina Valley Road." 
Despite the terrain, the 500hp Detroit engine powering each Cascadia is more than enough to get the job done, says driver Keith 'Shackey' Shackleton. 
"Even throwing on a heavier payload, it goes well. On the open road, when you're in top gear, it's sitting at under 1,200 revs and you can feel the torque powering you through. You get a lot of power through the lower rev ranges as well." 
The D12 automated manual transmission does a great job on that front, says Hamish. 
"I'm very happy with it. There are only two places I put it into manual, because I want to hold the revs higher. One is on the route into the Craig Dean Forest, where I'll drop it into sixth and hold it in manual for two particularly steep climbs. When I do that, the engine pulls all the way through."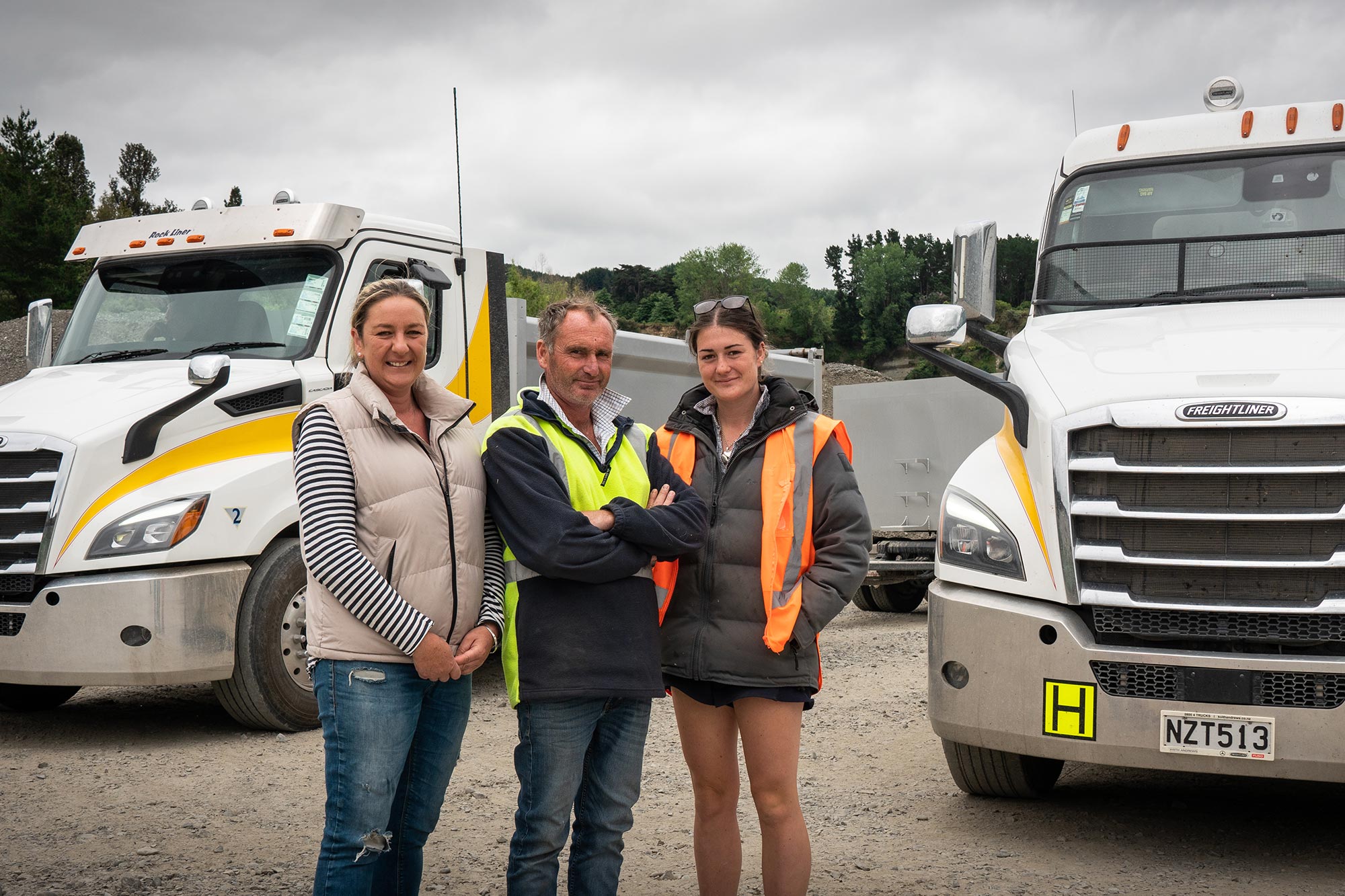 Hamish's whole family are invested in the success of the company. Hamish's step-daughter Brooke oversees the day-to-day running of the quarry and will get her class 5 licence as soon as she's old enough, while Hamish's partner Bex plays a crucial administration role. 
It's a set-up that has tasted early success and looks like it'll be dining out on it in the future. 
"The forestry industry has only just started around here," says Bex. "We think it'll be going strong for another 30 years." 
With a laugh and a sense of 'famous last words', Hamish reckons he won't be buying any more trucks for at least another 12 months. But with business booming, plenty of drivers wanting a job and complete faith in the Freightliner brand and the support from Keith Andrews, it might just be a case of watch this space.